If you're looking for the 14 best types of tiny houses, you've come to the right place. And the fact that you've come to this article indicates that you're familiar with the tiny house.
A sustainable and independent lifestyle many believed would always be out of reach. It has caught the public's imagination and become symbolized by tiny homes.
Think about this. You get out of bed and descend a short flight of stairs to the comfortable loft, where the kitchen is. A gentle rain starts to fall as you sit at the breakfast bar with a beautiful view of a peaceful lake.
The next day, you'll wake up near the sea, taking in your modest home's lovely atmosphere. There is something beautiful about tiny houses for specific individuals.
Many people prefer smaller living spaces, like cottages, whether they plan to downsize. It has already been that choosing to live in a tiny house provides several benefits. Most likely, you still have reservations about living in a tiny place.
But as soon as you learn more about these tiny homes, they'll urge you to move in. They'll inspire you to get a place of your own.
I write this helpful guide on the most well-liked 14 best types of tiny houses. In this article, I provide a complete guide to aid you in determining which ones most interest you.
What Is A Tiny House?
A moveable house with the most significant square footage of 50m2 is a tiny house. Most tiny homes fall into one of three categories: on wheels, on skids, or in shipping containers.
Advantages of Tiny Houses
Lower Costs. A little house is much less expensive to build than a regular one.
Not a mortgage.
Reduced Energy Use
the freedom of movement.
Simpler Upkeep.
14 Best Types Of Tiny Houses
Tiny dwellings encourage an independent and frugal lifestyle. It will help you stay grounded.
Here are the 14 best types of tiny houses that we enjoy seeing throughout the globe.
1. Tiny Houses On Foundations
When you think of a little dwelling, a house on a trailer comes to mind. Living in a trailer might be challenging because regulations depend on where you park it. There isn't much room for buildings.
There are a few well-liked options if you want to construct on a plot of land.
·         Building on a foundation
You could decide to erect your tiny house on a concrete foundation, like a "normal" house. You have a lot of design options with this choice.
·         Building on runners or skids
Suppose you expect to have to move your small house at some point but don't own any property. It is one alternative to building a semi-permanent foundation.
2. Tiny House on Wheels (THOW)
When people think about tiny homes, they imagine mobile homes. Beautiful tiny homes on wheels can be clear on Instagram and, with any luck, may pass you while you're driving.
What rocked the world was tiny homes on wheels. It isn't easy to match their comfort and usefulness! Once constructed, connect your truck and start traveling. You can have total freedom with a vehicle and a tiny home trailer.
Planning your area is more accessible by using a trailer as a base. To envision the area, either step outside to look at your trailer. Or use tape to create a mock-up of a real-life-size tiny house layout.
It will be an enjoyable exercise in pondering.
3. The Backyard Tiny Home(ADU)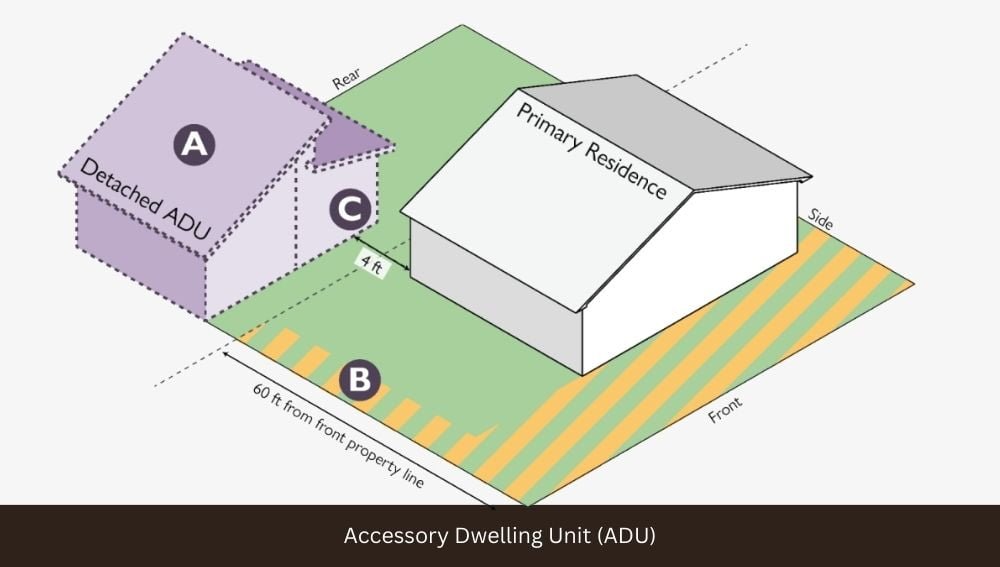 ADUs are other types of tiny houses constructed on a foundation. They serve as supplementary residences where a primary house already stands.
Since they are already on a lot with grid connections and don't buy a trailer. They are one of the most expensive completely connected-up options to build.
ADUs are common in cities with expensive housing and other stringent zoning regulations. To give a cheap location for friends and family, homeowners can build an ADU in their backyard and rent it out.
Even a kit with all the essential building materials is available.
Past years, ADU development has skyrocketed in Los Angeles and other cities.
4. Tumbleweed Tiny Houses
This American company creates individualized tiny homes. They are kits with many of the same amenities as an RV.
Many buyers of tiny homes find professional build quality. And the certainty of roadworthiness is appealing.
The Tumbleweed Tiny House Company is a Sonoma. A California-based business that constructs tiny homes between 65 and 887 square feet. Many of which are mobile, timber-framed residences linked to trailers.
Yet, these types of tiny housesare visual candy.
5. The Skoolie
Skoolies are vehicles that change to function as mobile homes and school buses. They incorporate the most outstanding features of RVs, tiny houses, and container homes.
Similar in size to many tiny homes, they have an independent engine like an RV. In contrast, an RV can customize the interior with durable fixtures. Its furniture makes skoolies seem more like "home."
Furthermore, Skooliesoffer much more storage capacity than a van or a smaller RV.
Skoolies are a fantastic choice for families and people.
It is best for people who want to travel without sacrificing comfort.
6. Cob Houses
For many people, a house might be frightening. Cob houses are more complex than simple clay homes. Clay, sand, and straw are some of the best all-natural building materials for your tiny house. It lasts a very long time.
Many homeowners think that natural materials will decay with time. Yet if your home is correct, it will last a lifetime.
Traditional English stone buildings known as cob structures have existed for 500 years. Your roof should have an overhang to prevent your building from environmental moisture.
It is crucial to ensure that the foundation of your house is sturdy and weatherproof.
In conclusion, you were using cob to create a unique type of a tiny house.
7. Shipping Container Homes
Shipping containers are a favorite building material among tiny home builders. The options for architecture and design are endless because of their rigid structures. Be mindful of your container's structural safety, though.
Shipping containers as the foundation for houses is a unique offshoot of a tiny house.  Almost anywhere on the planet, shipping containers are less expensive.
They will be weatherproof and damage-resistant.  Simple delivery from a manufacturer or distributor to your home site. Many alternatives to buying built-out homes are all advantages of container homes.
They offer an excellent solution for sustainable living on a permanent property.
They aren't a smart choice if you want to move about daily.
8. RVs/Park Model Homes
Pop-up campers and class A motorcoaches, both large and expensive, are examples of RVs. Teardrops, tow-behind travel trailers, and Class C motorhomes are prevalent RV styles. We encounter tiny living.
The tiniest homes are park models RVs, with tiny modern homes. RVs are desirable solutions for those who want to move fast. They are already outfitted and have power, water, and sewage systems.
Several used RVs, beds, and other living amenities are available on the market. They can move about without any construction. Finding an already built RV ready for you to move in won't be difficult.
Renting an RV, you can tell if you're serious about living in a tiny house.
Should not operate RVs in warm climates.
Severe winters unless the owner has made significant renovations to the vehicle.
9. Cabins/Yurts
Cabins, yurts, and other outlying dwellings are well-liked varieties of compact homes. They provide the best method to escape the bustle of contemporary life. And attempt to build sustainable and self-sufficient living.
They can be grid-connected or off-grid. For thousands of years, people have constructed huts in the woods. As an environmentalist and sustainable living legend Dick Proenneke did.  You may fall your logs, cut them to size, and build them yourself if you want to take them to the next level.
Many cabin kits and builders are available for those who aren't expert woodworkers. Yurts are among the most straightforward and most cheap options.
They are unusual spherical tents modeled after that long-used by the steppes' inhabitants.
Yurts are spot both in urban backyards and remote areas of the countryside.
When going tiny, they are a fantastic choice to think about and are one of the best types of tiny houses.
10. Vardo Tiny Houses
There is nothing better than living in a wagon if you're living alone and going tiny. Vardos include rich color schemes and complex motifs by horses.
They are now spherical at the top to maximize space and design a haul by vehicle. They are now spherical at the top to maximize space and design a haul by vehicle.
Strong winds can be withstood well by this design.
11. Trailer Homes
Trailer tiny homes are complete little dwellings. They attached a trailer connected to a truck. It was the first to garner significant public notice.
Due to its low cost and ease of mobility, this design is for frames, usually made of wood. No conventional house comforts give up to make it smaller. Living in such a tiny space is cozy.
You must know a few things before building your tiny house.
Whether you do it yourself or hire a professional.
I provide all the advice you need about the types of tiny houses.
12. Tiny House Shed
A shed? A garden shed? You would be correct, of course. What you use to store your gardening tools or tools could make the ideal foundation for a tiny house. You can choose to add to the shed's construction.
But, some elegant sheds come with modest porches as standard equipment.
There are countless options for this type of tiny house!
13. Underground Tiny Homes
Is anyone here a fan of The Lord of the Rings? Some unique underground tiny homes are available besides creating your own Hobbiton. Contrary to widespread assumption, these tiny houses don't always have dark interiors.
A well-planned UGH can feature windows that lead into tunnels to let in lots of natural light.
14. Tiny Houseboats
An RV on the water is a tiny houseboat. The inhabitants can live on the water thanks to these fantastical homes.
But, you can dive beneath the water if you so choose. This area is perfect for folks who want a unique yet straightforward lifestyle. You can't act otherwise when you're on a tiny houseboat.
Maintain a proper depth to see when you are in or near water. Built-in storage supplied by the bed frame houses. There are cabinet systems under the mattress.
On the tiny houseboat's upper deck gives the owners a lovely outdoor area.
When the enormous windows are open, fresh air comes in, making the room appear larger.
Conclusion
Here, you'll find a comprehensive guide on the 14 best types of tiny houses.
There are various types of tiny houses that are cozy and less expensive. These are only a few of the countless designs that exist. Look around for the design that suits you the best.
In the US, the tiny house movement is making significant progress. For individuals beginning this path, the phrase "less is more" is ideal. Most people picture beautiful, mobile tiny homes when they think of tiny homes. There are also other options. It is pretty inclusive.
I hope that seeing the 14 best types of tiny houses has inspired you!