Prefab Homes and Real Estate
With over a hundred years on the market, prefab homes have a rich history in the United States.
The first concept of prefab homes in the United States was in the early 1900s. These homes are still present in this century. They have grown higher in popularity, leading to calls for more affordable and sustainable housing.
But do you know what a prefab home is? How does it fit your housing needs?
In this article, we will explore all the details about prefab homes. We will discuss how they fit your housing needs and real estate options. Read on to know more.
History of Prefab Homes
Prefab homes have been around since the early 1990s. Another name for these homes is kit home construction.
Then, builders would provide portable buildings in the form of kits. Afterward, they shipped these kits to the buyer's doorstep and assembled them on-site.
In the 20th century, prefab homes became even more popular. After World War II, there was a spike in the number of home seekers looking for affordability. In the 1950s and 1960s, people tagged prefab homes as low-quality, mass-produced houses. This perception started changing in the 1970s.
Prefab homes were a DIY thing in the past. After a buyer got a package, they would have to bolt it together themselves. The whole process saved time and money. Not to mention that people could also buy interior finishes. It helped to give the homes their preferred touch.
How Prefab Homes Trickled Into the Housing Market
In the late 1900s, the prefab home industry saw some clear changes. The US housing market was growing at an incredible rate. So home builders looked for other options that could help fulfill demands faster. 
There were several other factors. For instance, the cost of conventional homes and the expensive real estate market. Speed of completion, construction ease, and installation time were also crucial.
All these made prefab homes even more common. If a builder prefabricated all the necessary components of a home, it would be easy to assemble and build others faster. At this point, prefab homes started to gain momentum for their efficiency.
These extra benefits brought about innovations. Suppliers started looking for other ways to streamline the process even better.
As a result, builders started prefabrication of whole houses rather than focusing on shell packages. It meant one thing, builders no longer had any front-end work. Also, people could own homes in a matter of weeks.
What is a Prefab Home?
Prefab is the short form of prefabricated. When it comes to these kinds of homes, builders construct them piece by piece in an off-site factory.
Then they transport them to the home site and assemble them on the owner's property. For many, prefab homes offer affordability and sustainability in housing options.
Prefab refers to how builders constructed the home. It does not refer to the style. It means that there are many models and types of prefab homes.
Why Prefab Homes?
Good for Any Climate
Builders must manufacture them according to the climatic conditions where they wil assemble the house.
Manufacturers can design prefab houses according to cold or hot conditions. So, they will consider the climatic conditions of any area they plan to assemble a prefab home. It will ensure that even adverse weather conditions do not affect the home.
Comfortable
Prefabricated structures offer many comforts because manufacturers design them per user's choices. Since they build the homes in a modular system. They can create the size in a way that is appropriate to the user's needs and include desired functions.
Customizable
You can choose a home that has a rustic, modern, minimalist, or classic style design. If you want to buy a prefab house, you have several options. They include a patio, balcony duplex, or a single story.
You can choose the materials you want, the style, and the taste you like.
Differences Between Modular Homes and Prefab Homes
There are several differences between prefab homes and modular homes. Let's take a look at them.
Budget
Although, the type of home can affect building costs. Yet, a prefab home is still a cheaper option itself. Modular homes are usually the more expensive kinds.
Customization
Prefab homes have advanced over the years. They offer a wide range of options. But, modular homes do not allow a high level of customization. If you want to customize your home, a prefab is better.
Resale Value
Prefab homes have higher resale value than modular homes. If you're planning to sell, it's crucial to know how they vary. Other manufactured homes are personal properties and can lose value over time.
Construction Quality
Builders must perform some climate and weather checks before constructing a prefab home. They do not do this for modular homes. It exposes modular homes to more cracks and potential problems from climate.
Why Are Prefab Homes Known As Modular Homes?
Builders construct prefab homes off-site in the factory. So, they fall in the category as modular homes.
The parts of a prefab home come ready. All you need is for workers to assemble them on-site and hook them to utilities. People sometimes refer to prefab homes as modular homes.
Prefab is a general term for a prefabricated building. It is a building component that builders manufacture in a factory before its final assembly at the construction site. Hence, modular is a prefab home like there are other types. We will discuss them later in this article.
What Are the Advantages of Prefab Homes?
Below are the reasons you should consider owning a prefab home;
Economic
You can own a prefab home at very affordable prices. This is because prefabricated houses cost less in comparison to other home options. If you choose a model that consists of long-lasting and quality material, you can use it for several years.
Saves Time
It takes months to construct and reinforce buildings. But you can buy a prefab home that has all the features you want in the shortest time.
Builders produce prefab houses in modular structures in a factory environment. As a result, they complete their construction in a shorter period without any problems.
Favors the Environment and Human Health
When you buy a prefab house, you have an eco-friendly house that you can use in any season. Prefab Homes are modular structures that builders make from 90% recyclable materials. 
These structures, which do less damage to nature, also pay solid attention to human health. The housing design uses quality natural materials so families can live healthier lives.
Modern, Aesthetic Design
Prefab houses use superior technologies in manufacturing. These offer modern, aesthetic, healthful, and comfortable lifestyles. Unlike buildings with standard features, builders can design prefab houses according to expectations.
Builders can make prefab buildings ranging from tiny single-story homes to three-story villas or waterside residences. Moreover, the owners can determine the architectural styles of these houses.
Thermal Insulation
Manufacturers consider the climatic characteristics of the region where they'll design and install the prefab houses.
They perform the necessary structural and thermal insulation calculations with the environment and climatic factors. It means your home design helps to save energy.
Disaster Resistant
Consider a quality prefab home if you like a house resistant to earthquakes and other natural disasters. It is even more critical in zones that are prone to earthquakes.
Prefab houses resist harsh natural conditions due to their flexible and lightweight structures. These houses are solid. It is because they are ready-made structures that are resistant to first-degree earthquakes.
They also offer ecological and comfortable building properties, including protection against fire risk.
What Are the Disadvantages of Prefab Homes?
Like any other housing type, prefab homes also have their disadvantages. Let's take a good look at them.
Land Costs
You'll need to own the land underneath it to assemble a prefab home. If you don't own land, you'll need to buy one. You'll also want to ensure that the structure of the land is good enough to accommodate your prefab home.
There'll be expenses for soil testing, land security, inspections, and permits.
It should be fine, as other housing types still need you to have land first.
Also, some companies can help you streamline the land process and secure permits on your behalf. It makes it fast and easy.
More Upfront Payments
If you buy an existing conventional home, you can make a down payment of about 20% and pay off the rest over time as a mortgage. Prefab homes do not include this.
Financing and construction loans are also available for many prefab homes. It means you can complete the payment for your home before you move in. Your building contract will include a payment schedule during the construction process.
The pay-as-you-go features of prefab homes mean that you can own your home for as long as possible without mortgage debts. It also saves you interest.
Utilities May Be Difficult To Find
Another con of prefab homes is that finding utilities and other site details can take time. If the site is uneven, you'll need to pay to level it.
After which, you'll pay for foundation laying and arrange for sewer strikes and electrical connection. You'll also need to find a water well or city water.
Nonetheless, you don't have to worry about this as you can decide to live off the grid in your prefab home. You can also look for a prefab company that covers all these details.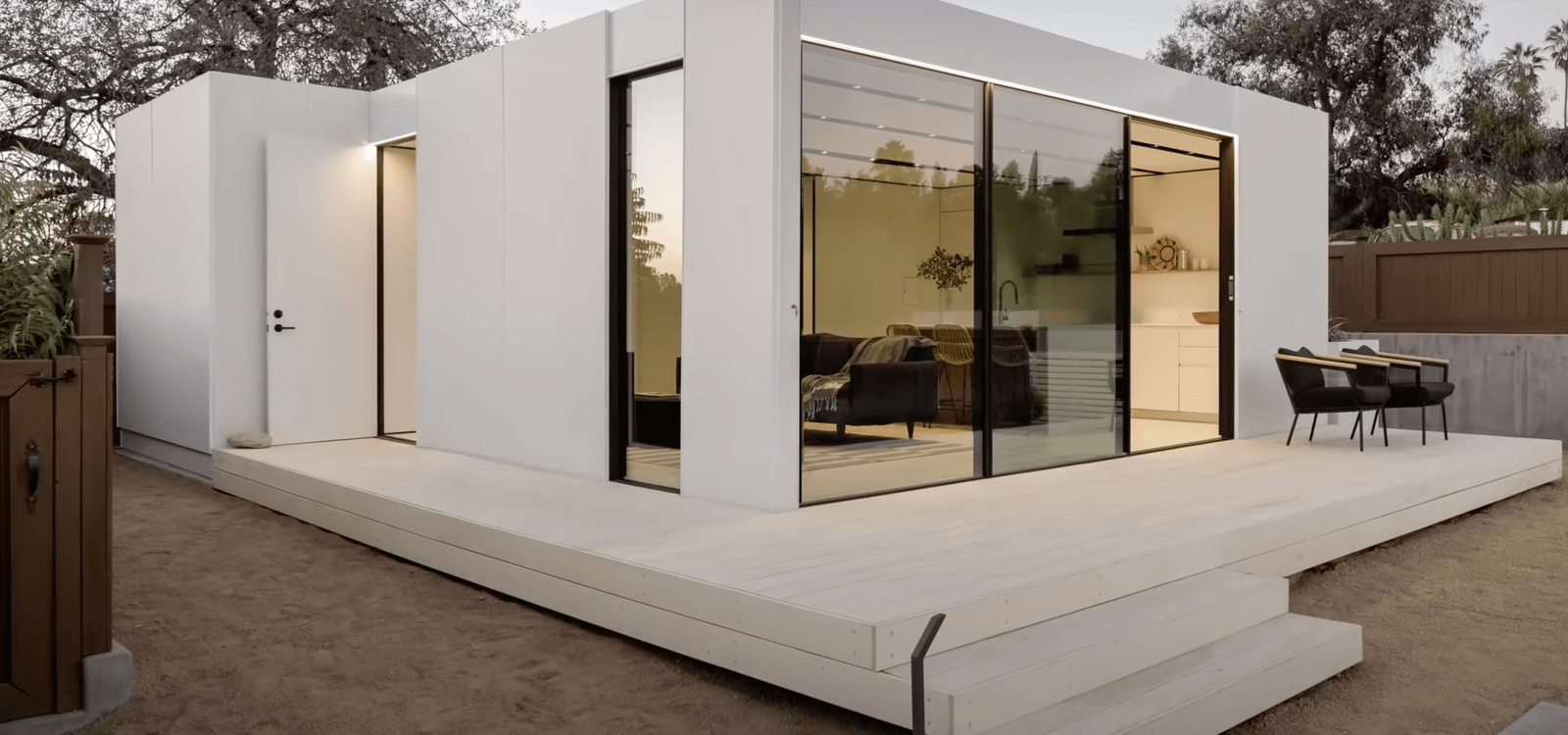 Under What Circumstances Are Prefab Homes Worth Buying?
Under what circumstances should you consider buying prefab homes?
When Looking for Shorter Build Time
A builder can often construct a new prefab home in 6-12 weeks. It applies to both on and off-site construction. If you're in a hurry, you won't have to wait long.
When Looking for Predictability
From the beginning of the project, you'll know how much the prefab home will cost. It makes it easier to complete and manage. Unlike traditional builds that rarely meet deadlines, you can organize everything around the structure.
When Avoiding Stress
Many prefab companies will work hard for you if you choose prefab homes. It guarantees less worry and stress and no delays too.
Rental Income
You can build an ADU on your existing land. It affords you potential rental opportunities in a short period.
What Are the Types of Prefab Homes?
Builders manufacture all types of prefab homes in a controlled factory environment. They then send them to the job site for final assembly.
There are many types of prefab homes. The main types include:
Modular Prefab Homes

Panelized Prefab Homes

Pre-Cut Prefab Homes

Shipping Container Prefab Homes
Timber Frame Prefab Homes
At this time, there are about 26 types of prefab homes that are easily available. The demand for prefabs in the housing market is increasing day by day.
We only cover the most popular prefab homes in this article, here they are:
Modular Prefab Homes
Kit Homes
Panelized Prefab Homes
Tiny Prefab Homes
Timber Frame Prefab Homes
Box Frame Homes
Steel Frame Prefab Homes
A-Frame Prefab Homes
Fiberglass Prefab
Shed Roof Prefab
Pre-Cut Prefab Homes
Shipping Container Prefab Homes
1. Modular Prefab Homes
Builders manufacture these homes with modular construction techniques. They use standardized and pre-engineered building components.
These components enable quick assembling on-site. Constructors build modular homes in sections, or modules according to local building codes.
These homes come in different shapes and sizes. They are available in many styles. Designers use "Steel framing" in these homes instead of wood walls.
Cost: The price range of modular homes varies between $180,000 – $360,000 depending on their size and structure.
2. Kit Homes:
Kit homes are also called pre-cut or ready-cut homes. Kit houses are permanent structures. Workers deliver them to your location. You can assemble the materials at your location according to your plan.
Cost:  They are available at quite affordable prices. Cost ranges from $50 to $110 per square foot.
3. Panelized Homes:
Designers design the parts of prefab homes in a factory. Builders manufacture panelized prefab homes using prefabricated panels.
These materials include walls, roofs, and floor systems. Dealers transfer these materials to the construction site and then place them on location.
The panelized construction method offers several benefits. Some examples worth mentioning are quality control and cost savings. Customizable buyers' specific designs are also an advantage.
Cost: The price of panelized prefabricated homes ranges from $350 to $400 per square foot depending on the size and structure also.
4. Tiny Prefabs:
Tiny prefabs are mostly used in urban areas. Tiny prefab homes are for people who want to live minimal lives in a mobile and flexible way. They are transportable when out on wheels and also help to reduce environmental footprint.
They are available in many shapes and sizes. Architects and Contractors design and build these homes offsite and then bring them to the actual location. These include a bathroom, kitchen, bedroom, and some storage space.
The tiny prefab houses are 400 square feet or less in size. Manufacturers design them to be affordable and sustainable.
Cost: $30,000 – $60,000 is the starting price of tiny prefabs depending on their size and structure.
5. Timber Frame Homes:
These include large timbers which hold frames. It gives support to the whole house structure. To build a timber frame house, it is important to have experience with expert carpentry skills.
A timber frame prefab home is a type of house manufacturers make with a framing system. The framing system can be timber, rather than steel or concrete.
It is popular because of its high level of customization and unique designs.
The frame is also sturdy and durable. Timber frame homes are more energy efficient than traditional homes. Which is due to the natural insulating properties of wood.
Cost: The price range varies between $200 – $250 per square foot. It may include 2 bedrooms and a bathroom.
6. Box Frame homes:
These homes, also known as prefabricated or modular homes, are structures that contractors build off-site in a factory setting and then assembled on-site. They are typically made from a series of interconnected box-shaped modules, which can be arranged in a variety of configurations to create different floor plans. These have a height of 8 -10 feet. These are temporary structures. These homes are typically designed to be temporary or semi-permanent structures. They are often used as temporary housing solutions, vacation homes, or rental properties. They are usually made from lightweight materials such as steel or aluminum. They can be easily transported and assembled on a foundation or other type of support structure. Box frame homes are often designed to be energy-efficient and environmentally friendly. They can offer a cost-effective alternative to traditional stick-built homes.
Cost: The cost of box prefab homes is around $180 – $300 per square foot depending on the size.
7. Steel Frame Prefabs:
While building steel frame prefabs, contractors use metal beams to support the whole structure. Its construction includes columns, cantilevers, beams, posts, and girders.
Builders make this kind of home using a steel frame as the primary structure. This construction has become more popular due to its strength. It is resistant to damage from natural disasters like hurricanes.
Manufacturers also produce steel frames with high-strength steel to withstand heavy loads.
Workers coat the frame with a protective layer to prevent rust and corrosion. It makes it even more durable and long-lasting.
Cost: The price of steel frame prefabs ranges between $8 – $12 per square foot depending upon the size.
8. A-frame Prefabs Homes:
A-frame prefabs is perhaps the best choice if you want to own a prefab with sufficient attic space. Attics are important to keep good insulation in the house. These come in various beautiful designs. These homes are available in many styles. These styles include farmhouse, craftsman, and ranch styles. These are super easy to assemble.
Cost: The price range of A-frame ranges between $100,000 – $200,000.
9. Fiberglass Prefab:
In these prefabricated homes, builders use fiberglass rather than wood or concrete walls.
Contractors build fiberglass prefab homes with reinforced plastic (FRP) as the primary building material. FRP is a strong and lightweight composite material made by combining fiberglass fibers with plastic resin. It is often used in the construction of prefab homes because it is durable, corrosion-resistant, and easy to work with.
There are several benefits to using fiberglass prefab homes:
Strength and Durability: FRP is a very strong and durable material that can withstand harsh weather conditions and is resistant to damage from impact, water, and UV radiation. This makes it ideal for use in prefab homes, which may be subjected to these types of stressors during transport and assembly.
Energy Efficiency: Fiberglass prefab homes are often designed to be energy-efficient, which can help to reduce energy costs and improve indoor comfort. This can be achieved through the use of high-quality insulation, energy-efficient windows and doors, and other energy-saving features.
Environmental Sustainability: Fiberglass prefab homes are often made with recycled materials and can be recycled themselves at the end of their lifespan, which makes them a more environmentally-friendly option compared to traditional stick-built homes.
Cost-Effectiveness: Prefab homes are generally cheaper to build and maintain compared to traditional stick-built homes, and fiberglass prefab homes are no exception. The use of prefabricated materials and factory-controlled construction processes can help to reduce costs and improve the overall efficiency of the construction process.
Customization: Many fiberglass prefab home manufacturers offer a wide range of customization options, allowing customers to choose the size, layout, and features of their home to suit their individual needs and preferences.
Cost: The price range of these prefabs starts at $100,000.
10. Shed Roof Prefab:
Shed roof prefab homes are homes that feature a simple, sloping roof that has an incline in a single direction, typically from front to back or from side to side. This type of roof is often used in prefab homes because it is easy and inexpensive to construct, and it can be designed to fit a variety of different floor plans and architectural styles.
These prefabs include metal frames and builders combine these metal frames with plywood panels There are several benefits to using shed roof prefab homes:
Simplicity: Shed roofs are simple and straightforward in design, which makes them easy to construct and maintain. This can be especially beneficial in prefab homes, which are often built off-site in a factory setting and then assembled on-site.
Cost-Effectiveness: Shed roofs are generally cheaper to construct compared to other types of roofs, such as gable or hip roofs, which can help to reduce the overall cost of building a prefab home.
Efficient Use of Space: Shed roofs can create extra headroom and usable space in the attic or upper levels of a prefab home, which can be especially useful in small or narrow homes where space is at a premium.
Energy Efficiency: Shed roofs can be designed to be energy-efficient, with a shallow pitch that allows for the use of insulation and other energy-saving features. This can help to reduce energy costs and improve indoor comfort.
Versatility: Shed roofs can be used in a variety of different architectural styles, from modern and contemporary to traditional and rustic, making them a versatile choice for prefab homes.
Shed roof prefabs give the best safety from insects, animals, wind, bad weather, rain, and storms.
Cost: The price range of shed roof prefabs starts from $100 – $200 per square foot depending on the style, design, and size of the house.
11. Pre-Cut Prefab Homes
Manufacturers make pre-cut prefab homes in a factory setting and then ship them to the building site in pieces. Pre-cut means that the manufacturers measure and cut to size in the factory. It makes it easier to assemble the house on-site.
So Pre-cut prefab homes are homes that are built using prefabricated components that have been precut to size and prepared for assembly at the construction site. This type of prefab home is typically built using a kit of parts that includes all of the necessary materials and components, such as framing, insulation, siding, and roofing, that are needed to complete the home.
There are several benefits to using pre-cut prefab homes:
Efficiency: Pre-cut prefab homes are generally faster to construct compared to traditional stick-built homes because the components are pre-cut and ready for assembly. This can help to reduce construction time and costs.
Quality Control: Prefabricated components are typically produced in a factory setting, which allows for more stringent quality control measures to be in place. This can help to ensure that the components used in the construction of the home are of a higher quality and are more consistent in terms of size, shape, and other characteristics.
Energy Efficiency: Pre-cut prefab homes can be designed to be energy-efficient, with high-quality insulation, energy-efficient windows and doors, and other energy-saving features. This can help to reduce energy costs and improve indoor comfort.
Customization: Many pre-cut prefab home manufacturers offer a wide range of customization options, allowing customers to choose the size, layout, and features of their home to suit their individual needs and preferences.
Durability: Prefabricated components are often made from durable materials such as steel or concrete, which can help to ensure the longevity and structural integrity of the home.
Manufacturers make pre-cut prefab homes in a factory setting and then ship them to the building site in pieces. Pre-cut means that the manufacturers measure and cut to size in the factory. It makes it easier to assemble the house on-site.
12. Shipping Container Prefab Homes
A container prefab home is a type of dwelling builders make from recycled shipping containers. The material for the shipping container is steel. It is a good choice because the materials are safe for the environment.
So Shipping container prefab homes are homes that are built using recycled shipping containers as the primary building material. These homes are constructed by taking one or more shipping containers, which are typically made from corrugated steel, and modifying them to create living space. Shipping containers are strong and durable and can be easily transported and assembled on-site to create a variety of different floor plans and architectural styles.
There are several benefits to using shipping container prefab homes:
Sustainability: Shipping container prefab homes are made from recycled materials, which reduces the demand for new building materials and helps to reduce the environmental impact of construction.
Strength and Durability: Shipping containers are designed to withstand the rigors of long-distance shipping and handling, which makes them an ideal building material for prefab homes. They are strong and durable and can withstand harsh weather conditions and other types of stress.
Customization: Shipping container prefab homes can be customized in a variety of ways, including the layout, size, and features of the home. This can allow homeowners to create a unique and personalized living space that meets their individual needs and preferences.
Cost-Effectiveness: Shipping container prefab homes are generally cheaper to build compared to traditional stick-built homes, which can make them an attractive option for those looking for an affordable housing solution.
Efficient Use of Space: Shipping containers are typically designed to be used efficiently, with a compact layout that maximizes the use of available space. This can make them ideal for use in prefab homes, particularly in urban areas where space is at a premium.
A shipping container prefab home is a type of dwelling builders make from recycled shipping containers. The material for the shipping container is steel. It is a good choice because the materials are safe for the environment.
What Is the Average Price of a Prefab Home?
A single-story prefab home costs an average of $76,000.
It costs anywhere from $40,000 to $113,000 for homes ranging from 800 to 1,500 square feet.
For a single-story custom prefab home, you can expect to pay around $186,000. This type of prefab home can range from $96,000 to $276,000.
Also, your preference and style matter.
What Are the Rules and Regulations for Prefab Homes?
According to the National Manufactured Housing Construction and Safety Standards Act. Requirements for prefab homes are into two sections:
Requirements for manufactured homes
Requirements for others that are not manufactured.
Requirements for Manufactured Homes
The following are some requirements:
Affixing the data plate on the manufactured home as per 24 CFR Part 3280.5
Stamping the manufactured home serial number into the foremost cross member as per 24 CFR Part 3280.6
Affixing a permanent label to each transportable section of the manufactured homes as per 24 Part 3280.11
Requirements for Other Kinds
Building codes
The manufacturer should either follow the following:
One of the building codes with national recognition listed in 24 CFR Part 3282.12(b)(3)(i)
Any local code or State or local modular building code. They must accept the code as generally equal to the above-referenced codes. See 24 CFR Part 3282.12(b)(3)(ii)
Certification
A manufacturer can decide to exclude their product. But they must provide certification following 24 CFR Part 3282.12(c).
It should state all the following:
The manufacturer's name and address

Serial number of the structure

The structure is for erection or installation on a site-built permanent foundation
The design of the structure adheres to the relevant codes prescribed in 24 CFR Part 3282.12(b)(3)
The manufacturer should affix this certification close to the electrical panel. It is on the inside of a kitchen cabinet door. It can also be in some other readily accessible and visible location.
How Do These Rules and Regulations Affect the Prefab Home Industry?
Rules and Regulations affect the prefab home industry. The prefab home regulations affect the industry such that:
It dictates the materials that builders can use
It dictates standards of construction
These regulations can affect the cost of prefab homes. The building codes also determine the standard of construction.
In cases like this, contractors can find it more challenging to do business. The advantage is that it sees the high quality of prefab homes for owners and customers.
What Are the Core Principles of Prefab Homes?
There are some core Principles of Prefab home construction. They include:
Early Engagement with the Design Team
Due to the nature of the construction, there should be early engagement with the design team. Standardization maximizes manufacturing performance and reduces waste. It also achieves architectural goals.
Factory Precision Meets On-site Construction
Teams must be able to pay attention to the modules' interfaces, including any other structures of the project. These include foundations, central building cores, and large communal areas. They should also consider connections to existing buildings.
Teams must invest time and effort in meeting exact standards. It is the major way to prevent construction problems during any project stage.
Collaboration and Communication Enhancement
Communication is crucial at all phases of the prefab project. It is significant because most of the project is off-site.
You mus communicate well with everyone. From stakeholders to suppliers, all team members must collaborate with total honesty. It will ensure smoother and stress-free projects. It also prevents delays.
What Is the Construction Process Step-by-Step of Prefab Homes
Let's discuss how builders construct prefab homes step by step. First, it's vital to get the land ready. This is the job site where you'll assemble your prefab homes. The other process that follows is:
Build the Floor Systems
The foundation for modular homes is floor systems. All other parts of the house depend on the strength of the floor. Builders construct the house floors, walls, and roof systems at once.
Constructors place the floors on what they call jigs. These are the templates for the width and length on which builders assemble the bottom floor. The jig enables the wood members to conform to the standard widths of the ground floor. It allows the floor widths to be exact and within the tolerances of pre-established measurement.
Constructors double-band the floor systems at the perimeters. The doubling requires 2″ x 10″ wood members that allow extra strength.
Builders space and fasten the 2″ x 10″ floor joists at 16″ on the center. Floor decking comprises sturdy 3/4″ tongue and groove OSB that constructors glue and screw to floor joists. OSB means Oriented Strand Board.
The Walls
Walls are like the skeletal system of a home. They support the home's roof system and dictate the floor plan.
Again, builders build the walls at the same time they construct the floors. They use 2″ x 4″ studs for interior walls. While 2″ x 6″ studs go for exterior walls. Constructors make sure they lay out all the stud members in increments before 16″ on the center standard before they nail them.
Then they fix the dry walls to the studs with a unique foam seal adhesive. Doing this allows for a smooth and flawless finish. The nail pops are also fewer.
Next, constructors lift the exterior walls by crane over to the section of the floor. There they carefully set it in place.
Builders fasten the walls plumb at right angles to the floor system. This is according to the prescription of a nailing schedule to ensure a sturdy and tight structure.
Finally, builders lift the interior walls to the floor system.
Roof and Ceiling Systems
Builders engineer this part with a fold-up and self-supporting rafter system. The modular roof system is one of the most complex stages in constructing prefab homes.
For easy installation, builders build the roof next to the floor and wall stations at subassembly stations. These stations are where constructors build the various home components. Then deliver and install them on the house.
It saves time because they reduce the number of constructors that builders perform on the line.
Constructors start roofs and ceilings with the drywall layout and framing construction.
Subassembly stations are where builders construct the various components of the home. They then deliver them and install them in or on the house. The electrical assembly areas save time by removing these construction stages on the line.
Builders may have to install a microlam beam in large span areas to accommodate the heavy weight loads. Engineered drawings prescribe the design, and construction.
Next, they install the front and rear overhangs. Finally, they lift the roof and ceiling structure and carry it via crane. Then they set, fasten, and strap it to the perimeter top plate of the unit and lag bolt it into its interior walls.
The Plumbing Systems
Next is the plumbing and water systems stage. You will need to equip your prefab home with the right plumbing system. Whether you plan to use public water and sewage or a private well and septic tank, it is crucial.
The plan you select for your prefab home will determine the water supply lines, waste lines, and venting stacks.
A plumber will tie all the lines in and pressure test the required 95 and 100 psi for water lines. Waste lines need 35 psi to avoid any form of leakage.
The constructors will install the water supply and waste lines in the kitchen and bathroom areas. They'll ensure to do these while the prefab home is still in the production facility.
Builders stub the plumbing through on the first floor. If the home has a second story, they may route the plumbing to chase walls.
Builders must then connect the waste and water lines of the second story on-site once they deliver the home setting.
The water source for your home will determine the type of plumbing connection you need. And your builder will be responsible for connecting public water or well to your home.
Installation of Rough Electricals
Most builders construct prefab homes from the inside out. It is unlike the outside in construction, as with traditional stick building.
The constructors pre-wire the modular homes in the production facility. This is according to the prescription by the National Electrical Code and the home's electrical plan.
The manufacturers of prefab homes use 110-volt or 220-volt wiring to pull through the roof system. Then they drill holes in the wall cavities into areas of the house where there is a need for electrical service.
Contractors run the electrical wire to junction boxes at the location point of the:
Switches

Smoke detectors

Lights

Outlets
These points are also where they install and connect electrical components. After which, the builders fix the nail plates to protect the wiring from nail punctures.
The manufacturers will attach the electric panel with circuit breakers in one of the designated modules for later installation. It is according to the pre-establishment of your home's plan.
Once your prefab home arrives at the job site, an electrician will connect wiring from all the modular units.
Finishing of Drywalls
At this point of production, the builders finish the interior walls. According to our earlier discussion, the builders affix and glue the exterior drywall to the stud. While they install and fasten the interior drywalls.
After installing the drywall, manufacturers of prefab homes apply tape and joint compound to the joints or seams.
In the bathroom areas, the builders install a particular sheetrock and cement board behind the showers. They do the same for the tubs in ceramic regions to protect them from moisture. Then they fix corner beads to all the corners of drywalls to provide clean and crisp wall corners. A corner bead is a thin piece of metal or curved bead that angles at 45°.
Finally, the builders will install a fireplace in a  chase area that the floor plan recommends.
Insulation and Sheathing
One great feature about prefab homes is that they are energy efficient. The major enemy of homebuilding is the infiltration of air. So forming a tight envelope via proper insulation will ensure adequate comfort. At this stage, builders install the brown cellulose ceiling insulation and the R-21 batt wall insulation.
Then they insulate all the open areas in the wall cavities. It includes all the available headers as well. 
Manufacturers also ensure that the entire home exterior undergoes:
Sheathing

Gluing

Fastening with OSB
It includes the marriage walls where the prefab units join together. After which, they apply caulk on the walls.
The sheathing and caulking enable an extra level of protection as well. This ensures that the home is energy efficient and robust.
Installation of Exterior Doors and Windows
It takes adequate preparation to install the exterior house wrap and exterior doors and windows. Doing it the proper way also guards against the infiltration of air and water.
First, builders install a house polypropylene wrap air infiltration barrier around the entire exterior.
Second, they install the flashing around the perimeter of all the exterior doors and windows. It protects the house against any intrusion of water.
Third, builders would also glue and fasten the windows into place.
They prepare the door openings, then install the door sill, threshold, and flashing. After applying caulk around the gaps, the builders install, set, and adjust the door units.
Siding
There are several options for exterior treatments that a potential prefab homeowner can choose from. Some builders recommend vinyl siding as the standard feature and treat the exterior.
First, builders take measurements and draw a plumb line to ensure that all the following siding planks are level. Each plank snaps into place, and the builders affix it with a nailing flange. Then they install end chambers and corner posts to end the new siding.
Constructors install aluminum fascia and low-maintenance ventilated vinyl soft on the overhangs. Finally, they ensure to mount all the decorative shutters if the home house plan includes them.
A prefab homeowner can choose the installation of other exterior treatments on site. It can be stone or masonry, among other treatments.
Roof Finishing
At this stage, builders finally complete the roofing. They nail a 7/16″ sheathing into place. Next, builders attach drip edging and install the ice and water shields around all the eaves. After this, they install synthetic felt paper over the entire roof and fix the shingles.
Trimming, Doors, and Painting
This process is one that constructors like to control and organize. Many people work on several tasks to ensure that the modular units get ready for the final stages. Trims give the openings around the windows and the interior doors extra insulation. There are several base trim varieties, and window trims. At this point, the builders install the casings and sand the walls.
Cabinet Finishing
During this stage, the workers install cabinets in the bathroom and kitchen areas. They do this by screwing them into studs and blocking them behind walls. They also set up the countertops with expert professionalism.
Electrical Finishing
This is one of the final stages of completion that comprises the everyday things you see and use in your home. Workers install the electrical outlets, covers, and switches. Then they connect phone jacks and coaxial cables to the outlets.
The builders install all the overhead lighting fixtures and connect them to the several junction boxes. They fix the range hood and other appliances that the homeowner orders.
Plumbing Finishes
Now the prefab home is almost complete. The individual modules appear more like home interiors as well. The constructors bring all the final bath plumbing and kitchen details together. They install the sinks and connect the faucets to supply and drain lines.
Final Touch up and Cleaning
This is the final stage of prefab home production. Workers give each step a full-scale cleaning from top to bottom.
They dust every inch, clean every window, and sweep every floor. Then the builders complete the final details. It includes the installation of shelving in the utility room, closets, and pantry.
Wrapping and Loading
Since production is already complete, the workers focus on protecting the modular unit. They ensure that the units are safe in transportation to the job site where the assembly will take place.
The workers ready the units with a weather-resistant membrane. They stretch it around the entire structure to protect against weather elements during travel.
They remove the castors that support the units through the production process. Then lift the structure, and secure it on a special transporter for shipment to the job site.
How Do Prefab Homes Differentiate From Modular Homes in the Construction Process?
Although prefab and modular homes may be the same, there are significant differences between their construction process.
First, manufacturers base prefab homes on producing key structural elements before construction. Also, they consider climate and weather during the transporting and assembly process.
It means they must decide between constructing the home at the factory and delivering it to the final location. Another option is delivering the separate parts and then assembling them on-site.
Manufacturers always build modular homes in a factory setting. They only subject them to weather conditions after construction and delivery.
There is no option to order the parts and get them in separate packages. The choice has more costs and doesn't provide customers with the potential cheap opportunity of prefab homes.
Do Prefab Homes Have Solid Structures? Why?
Prefab homes are structurally sound, even more than houses with wood production. How?
Every single piece of a prefab home undergoes a thorough inspection. This checks its durability and sturdiness before there is any structural approval.
Manufacturers construct the house in an environment that undergoes proper control. So there is no interference due to weather or long delivery times. It assures you of quality materials once our prefab home is complete.
The sturdiness of the roofing material, wall panels, and other structures within the building increase the prefab home durability. It also impacts its ability to withstand harsh weather conditions.
How Do We Connect the Foundation To a Prefab Home?

Builders attach a prefab home to its foundation using nailing strips, nailing plates, and screws. They also add bolts and fasten them to the sill plate. Usually, a prefab foundation is either wood, cement, or stone. It can also include a basement or crawl space to allow various connections.
Here is a step-by-step process of attaching a prefab home to its foundation.
First, a large truck (toter) will deliver the modular home to the assembly site. Then:
Prepare the Foundation
The foundation has steel frames manufacturers construct with beams to support the home. The steel beams undergo cross-linking. After this, workers weld the outriggers to offer extra stability to the support system.
Prepare the Site
The modules are usually large enough for workers to place them near the crane. Apart from nearness, the modules must also be in a position where the crane can pick up stations without stress to put them on the foundation.
Detach the Module From the Carrier
If the home is still on the carrier, you must remove it so the crane can lift it with ease. The workers will detach all the bolts and carrier clips to do this. They will then attach the floor system and modular to the carrier.
Unpack and Inspect the Modules
The workers will remove the shipping plastic and other packaging materials. Then they will inspect the modules to ensure no nails sticking out. Finally, the builders will check the energy seal outside the marriage wall to ensure it's in good shape.
Lift the Modules
The constructors will insert cables into the rail holes of the crane and use a spreader bar to avoid scratching the sides of the modules. They'll use a rope on opposite sides of the home to guide the movement.
Sit the House
The builders should lift the modules from the carrier in a bending form. This way, they can place the modules in the foundation with the lower side going first. Again, the builders should check the alignment of the units and adjust them where necessary.
Anchor the Modules
Constructors can use screws, nailing strips, nailing plates, and lag bolts to attach the perimeter rail of each module to the sill plate.
The process anchors the entire floor joint system to the foundation sill plates. It happens before the workers use other attachments, such as wedges and welds. They can also use carriage bolts to strap the higher walls to the sill plates.
How Do We Connect the Utilities To a Prefab Home?
Here is what you should know about connecting utilities to a prefab home:
Water and Sewer
Water may come from a public water system or well. Sewer also may be from a public sewer system or septic system. There will be costs for both, varying from site to site. Sometimes, getting accurate prices takes time due to unforeseen circumstances.
A water main under the street will deliver clean water to your home if you have a public water service. You'll have to pay the bills for the water use either monthly or quarterly. It is the charge for tapping into the public water system.
You must get permits if you use a well as the water source. The water well must also be clean and have enough flow. There will be costs for drilling the well and electrical supply for the pump.
If your municipality provides a sewer system, a qualified plumber will connect the pipe from your home to the sewer system. As with public water, there will also be monthly or quarterly usage for sewer charges.
If no public sewer is available, you'll need a septic system. Costa varies as well. You'll also need to pay for testing, permits, and inspection.
Gas
Gas sources include natural gas and propane gas. Often, lenders will need a letter from the utility or propane company. The letter should state that the gas or propane service is available to the customer.
You'll need to undergo inspection and get permits for both types of gas services. You'll need to pay for a tank lease or buy one for propane.
Only a plumber or LP gas serviceman with the right qualifications should:
Connect your prefab home to a gas source.
Change appliance orifices
Adjust gas-burning appliances
Electric
You'll need a letter from the power source proving your eligibility for electric power. The distance between the power supply box and the home usually affects costs. The greater the length, the higher the costs.
In some rural locations, you may need to pay for poles and transmission lines to your home. Only a person with the right qualifications can connect the electrical system of your prefab home to the power source. In most cases, this is an electrician with a license.
Consider some renewable resources as power supplies for your prefab home. Among these sources, it includes geothermal, solar, and wind. These technologies have more significant upfront costs. But they are suitable for the environment and will reduce monthly electric costs.
Choosing new energy-generating technologies can reduce the electricity costs in your prefab home.
What Are the Construction Weaknesses of Prefab Homes?
The major weakness of prefab home construction is the limit on design freedom. Several manufacturers offer pre-designed models of prefab homes. These are only customizable to certain degrees.
Because they want to reduce cost and save time, prefab home manufacturers tend to offer simple designs and elements. This enables the mass production of prefab homes. But, it means that there needs to be more construction quality.
Builders often design modular homes from scratch. It means that they can encounter some construction problems as well. The most common design of prefab homes is the boxy-shaped design.
Designs involving organic shapes, like circular floor plans are complex with prefab construction.
Due to the nature of their process, prefab homes also offer very rigid designs. But constructors can also combine prefab construction with other construction methods. This leads to on-frame modular or hybrid modular. This will increase site labor, slow down the construction process, and increase costs.
What Are the Common Mistakes Contractors Make During the Construction Process of Prefab Homes?
Here are some of the mistakes that contractors make when constructing prefab homes:
No Purchase Order System in Place
This means no trade cost agreement or advance-specific house information. Not having one in place leads to a lack of work completion. It can affect the whole prefab housing project as a whole.
Lack of Systems and Procedures
Systems and procedures can ensure to maintain the operation standard. If a contractor documents the plans also, they exist.
A contractor must have specific operation procedures. It will ensure the smooth flow of the whole construction process.
Keeping Workers Out of the Loop
Nothing tires workers quicker than a lack of information or communication.
With adequate communication, workers can become responsive and do their jobs well. Not providing clear directions can also affect their commitment to work.
Lack of a Flexible Build Schedule
Some contractors have a build schedule, but it's rigid. Sometimes, delays or setbacks can occur during construction. But a build schedule can help manage unforeseen circumstances. A program should be one of a contractor's standard operating procedures.
Lack of Job Sites Inspection
A contractor must conduct critical site inspections to ensure smooth construction. A contractor should be able to decide what is most vital when inspecting the construction process.
It is crucial to have a checklist and go over the results with those who are responsible. If not, the construction process will be poor.
How Exactly Do We Assemble the Walls At the Job Site To Form the House?
The name of joining each module and affixing them is "set." The set process of a prefab home varies in length depending on the complexity of the house.
After setting the home on the foundation and fixing it, the workers will set and align each module at a time. Then they fasten them to other modules.
The constructors use strapping to secure the walls to each other. The type of strapping they use varies according to the wind zones and home size.
How Exactly Do We Assemble the Roof With the Walls At the Job Site To Form the House?
After setting and strapping all the modules, the workers use the crane to raise the roof. As they lift the roof portions, they insert a knee wall for support.
Then they use a crane to lift panelized sections and insert them to complete the gable end walls of the home. It will help to close off the structure and make it watertight.
According to the home plan, workers can place decorative gables in the home's front elevation. It increases the aesthetics and curb appeal.
What Points Should We Be Careful Of When Assembling the Prefab House?
When assembling prefab houses, workers need to be careful. They should ensure cautious handling of the prefab components while crane lifting and making them. It will help them to avoid common sheetrock stress cracks that could occur.
Workers should also follow all instructions that the manufacturer provides. They should contact the manufacturer if they need any more clarifications.
Having all the relevant tools and materials is also crucial. It helps to prevent potential safety hazards.
Finally, performing a check is crucial as it ensures structural integrity.
What Modern Construction Are Prefab House Builders Bringing Into the Market?

Nowadays, prefab construction is on the rise. As a result, the industry seeks to improve safety, quality, and productivity. Cost, sustainability performance, and tight schedules are also in top gear.
In particular, people are looking for more ways to make prefab homes greener and safer. This is especially true by generating less waste when working with assemblies.
These are leading designers to include modern construction features in prefab homes. Examples are LEED, Passive House, and Net-Zero-ready prefab homes.
Other examples Include;
Energy-efficient doors and windows
High-performance insulation
Open floor plans Drought-resistant landscaping
What Are the Various Popular Prefab Home Models? Why Are Those Models Popular?
Prefab homes are like an umbrella term for several models. Here are the various popular prefab home models:
Manufactured Homes
Manufactured homes are the most popular prefab home models.  These homes are popular because their builds consist of strict standards. There are also several options like decks, garages, and basements to their model.
Modular Homes
Manufacturers still make modular homes in a factory and piece them together on-site. These models are popular because they offer various styles and sizes.
For instance, you can choose multi-story modular styles or simple structures.
Panelized Homes
It is an exciting alternative to modular and manufactured homes. Here, builders make the shell at a factory and finish the job on-site.
These models are popular because they offer insulated panels as a form of housing. They also include walls, trusses, and floors.
Shipping Container Homes
Prefab shipping container homes are oddballs. Yet, they are trendy because of the wide varying interior design they offer. The drawback is they are not as comfortable or accessible as modular homes.
Tiny Homes
These are smaller homes than average homes. They are under 400 square feet as well. Tiny houses are famous because they encourage minimal living and downsizing.
How Are Prefab Homes Rated in the Real Estate Market?
The prefab home industry is morphing day by day with several improvements. Although, the cost of prefabricated houses is 20 to 25% less than on-site-built houses. Yet, the industry is seeing growth.
The location also affects how much value your home accrues. Your prefab home area can increase or decrease your chance of selling.
Do Prefab Homes Help the Property Gain Value? Why Not?
Prefab houses hold value and appreciate with time like any other housing type. The value of prefab homes varies depending on the home's location, size, and quality.
You can gain value on your prefab home by adding some little upgrades. It will increase its market value.
For instance, painting the walls and installing crown molding, among others. These small changes can have a big significance on your home.
Also, the value of prefab homes will decrease unless there is demand for them. To avoid this problem, you should sell when the market is hot! Also, avoid buying high. Instead, buy low and sell high.
Why Are Prefab Homes the Investment Most Developers Are Planning For New Developments?
Prefab homes are the image most developers are planning to invest in new developments. It is because of the many benefits it offers. For instance, with the rising cost of housing in the United States, prefab housing is an excellent way to buy more space with less money.
Builders can construct prefab homes faster and more efficient than conventional on-site homes. It is a major advantage for developers because they need to build homes quicker and more productive to meet demand.
The process of quality control is also standard, so there is quality assurance. These homes also meet building codes, so the law is acceptable.
What the Future Holds for Prefab Homes?
Prefab homes are the future of construction. It can handle any complex projects, no matter the scale.
Since the last few decades, the scarcity of skilled trade workers has increased. The fewer skilled trades available make the cost of custom carpentry skyrocketing high. It means that people will start to look for prefab homes more often. Especially intending homeowners who want something they can afford.