Park Model Home Designs
Are you looking for park model home designs? These homes are not RVs or tiny houses, so understanding them can be difficult.
Builders build a park model home according to the RV industry code but usually in the same factories that produce manufactured homes. Hence, they apply the same rules for quality and modern design. Park model homes are generally larger than RVs. Some may even be up to the size of small apartments. Many park models have conventional housing features such as living rooms, big kitchens, oversized showers, full-size refrigerators, and ovens.
So how do you design a park model home? What qualities does it offer?
This article will discuss in-depth park model homes and explain all you need to know. Read on.
Why Buy a Park Model Home?
There are several reasons you should buy a park model home. Let's look at a list of them.
Transportable
One good advantage of buying a park model home is that you can transport them anywhere with the aid of any towing vehicle. Park model homes have trailers with wheels as well so you can move your house whenever you need to.
Useful for Long-term
If you're thinking about whether your park model home will last for a long time, the answer is yes. Park model homes are very good for long-term inhibition. 
You can stay in this home while building yours, or live in it during your college years to save money. Park homes come in all shapes and sizes that help them accommodate long-term living. Builders can also design them to suit your specific style of living.
Easy to Tow
Traditional mobile homes are lightweight so that a tow vehicle can easily pull them. The problem with this, however, is that the lightweight of the vehicle makes it harder to control on the highway. This is because of the road conditions and even weather conditions, for instance, wind. 
Park model homes are usually heavy weight and so they are stable on longer drives. You will need a stronger towing vehicle for the heavy weight of your home, but it pays in the long run because it's safer.
Great for Private Living
If suburban life is not the ideal living condition for you and you're looking to escape bustling city life so that you can maintain your privacy, a park model home is a good choice. 
Park model homes are much more favorable for secluded town areas. They make the perfect solution so you don't have to follow any code restrictions or wait for the completion of your home.
Customizable
If you're looking for customizable options for your home, park models are one of your best options. Just like conventional houses, you can add windows, decks, and granite to your park model home to give it an upscale look. This is a very big advantage if you plan to live in it for a long time or want it as a permanent home for yourself. 
Park model homes offer comforts that you can find in traditional homes. Simply let the builder know what you want when customizing your park model home. You can also have a good look at a list of our park home model designs.
Superior Construction
Unlike typical RVs, builders construct park model homes differently. The level of quality that these homes offer ensures that you live a comfortable life. 
Park model homes have superior construction when compared to prefab homes in the following ways:
Beautiful siding options that are as practical as they are pleasing

Spacious high ceilings

Flowing floor plans designed for storage, efficiency, and comfort

Textured ceilings

Extra high side walls and ceilings.

Upgraded insulation 
Tape-textured, and painted VOG walls
Vinyl over Gypsum (VOG) is a form of wall coating. To achieve the tape-textured, VOG walls, builders install the drywall and fill the seams with drywall mud. Then they cover it with tape, sand the wall, and mud them again. 
They sand the walls for the second time, spray them in texture and then paint them.
House Wrap
House wrap is a modern synthetic material for building protection. It serves as a barrier that is resistant to weather. It also prevents rain and other forms of moisture from entering the wall assembly of a building, allowing water vapor to reach the exteriors.
Low E Vinyl Windows
Low Emissivity or Low Emittance (Low E) vinyl windows have a microscopic coating. It enables them to be thermally efficient. The coating is not toxic, but it is thin and colorless. 
Low E vinyl coating on windows minimizes the number of infrared rays and ultraviolet light that can penetrate glass. It does this by reflecting it away and reducing emissions of radiant heat.
New technology for park model homes
One cutting-edge technology that has been in the last few years when it comes to the development of park model homes is wireless connectivity. If you use a wireless device, you're not alone. In this age, wireless devices are a common sight. It can be a stereo, phone, smart refrigerator, or some other device. However, wireless networks can present their obstacles, for instance, you need space in your park model home to put the router. You also need wireless boosters to achieve a good connection in each room. Bringing the fiber cable into your park model home can be difficult as well.
You don't need to worry any longer. Builders now consider wireless users when they construct park home models. So, your home can have external fiber connections, built-in wireless routers, and connectivity in every room. If these are important to you, considering a park home model is a great choice.
List of Materials Contractors Use to Build Park Model Homes
Below are the materials that contractors use when building park model homes:
Park Model House Trailer
Park home model trailer

Jack stands
Park model trailers are not like tiny home trailers. Builders construct and engineer them differently. A tiny home trailer can only be 8'6″ wide. But a park model home trailer can be as wide as 11'8 and about 40′ long.
Roofing
Metal Roofing

Tar paper

Rain and Ice Shield
Hardware
Exterior Screws

Metal Screws

Strapping Nails

Bolts, Nuts, and Washers

Exterior Nails

Plastic or Simplex Nails

Staples

Brads

Finishing Nails

Door Hardware
Wood
Dimensional Lumber

Plywood

Exterior Siding and Trim

Interior Siding and Trim
Insulation
XPS Boards

Spray Foam

Housewrap and Tape
Electrical
Wire

Electrical Panel and Breakers

Outlet Boxes

Outlets and Switches

Switch Plates

Lighting

Wire Staples

Cable, Network, and Telephone Wires
Plumbing
Supply Plumbing

Drain Plumbing

Shower

Kitchen Sink and Faucet

Shower Faucet

Toilet

Water Heater

Dryer Vent

Hanger Tape Roll
Flooring
Hardwood Flooring

Tile

Mortar, Thinset, Adhesive

Flooring Transition Pieces
Strapping and Flashing
H Clips

Nail Plates

Flashing
Hurricane Straps
These are the metal ties that attract your roof trusses to your house. Their raw material is usually steel.
Straight Straps
Straight straps are metal straps that help to resist tension forces between two members. Builders usually pre-cut them for quick and easy installation.
Millwork
Exterior Door

Interior Door

Windows

Shims
Paint
Paints and Stains

Construction Adhesive

Park Model Home Site Preparation
Just like tiny homes, builders can also design park models to be portable. They do not need a permanent foundation to stay on. Some counties in the United States even have rules that are against putting a park model home on a pier system or foundation. For instance, San Diego.
The recreation vehicle industry association (RVIA) classifies park model homes as "a unique trailer-type RV with a designation to provide temporary accommodation for recreation, camping or seasonal use."
The advantage of this is that you do not need to prepare any land. You don't need to worry about building codes as well and you can always relocate to another park if the need arises. You'll be living in a community of people that share your kind of lifestyle as well.
Nonetheless, you still need to carry out a site inspection to ensure the safety of your park model home. 
Site Inspection
The very first rule for every home including a park model home is getting the site inspected. This has to be before you purchase the home because you want to know what you'll need to do before putting your park model home on a property.
A park model home may sound like an exception (since it isn't on a foundation), but it's not! You will be preventing a lot of hazards and trouble with the authorities in your county. For instance, you want to know if there's a gas line there!
You should know if your property is suitable for a park model home and that's something to find out first!
Base Pads
A base pad is an important component of every site preparation. You'll require base pads anywhere you want to place your home. Base pads ensure that your home has proper water drainage. It also helps to regulate the humidity of the home. The two types of base pads for a park home model are:
Caliche base pads

Permanent concrete foundation
Park Model Homes as a Great Investment
Park model homes are a great investment opportunity, especially for short-term periods. They have a low-cost initial investment and a high potential for ROI, offering a great way to round out your investment portfolio.
One of the biggest benefits of investing in a park model home as a rental property is that buying or building one has low costs. 
A park model home costs cheaper than an average traditional home. This makes it not only accessible for those who want to buy but also rent.
Another advantage is that builders have the freedom to build a model home that is luxurious and very comfortable for people to live in.
Park model homes are also more enticing than renting a single room on Airbnb because they offer greater privacy. If you combine this with the growing affinity for green living, you'll realize that park model homes are one of your best investment options.
Steps that Turnkey Companies Offer for Park Model Homes
Here are some of the steps that turnkey companies offer for park model homes. They include:
Placement Verification
If you're placing it on private land, you will need verification for placement allowance from your local planning and zoning office. Most counties have zoning and planning regulations that govern the type of structures there. 
If you're choosing an RV or park home model community, you will need certification. This will help you with all the credentials that you need to gain acceptance into that community.
Get Quote
Here, you'll first need to choose a model and get the price range for your park home. You'll also need a quote for transportation to the park home from the turnkey company. The average cost per mile for transportation is about $4 – $5.50 for towing vehicles. Some companies charge separately to set up your park model home as well. 
Furthermore, you'll need to ensure that you have utility including electricity, water, and sewer. You must get the total cost for all these. 
Payment and Financing
If you decide to pay cash, you'll need to discuss it with the turnkey company. Some of them will usually require payment in parts. For instance, a down payment before they start the process and then as the building process progresses.
Just like when you purchase any home, you'll need to pay retail taxes on your park model home as well. This is usually about 6.875% of the selling price.
If you are financing, you'll need to take a loan. One major option is to apply for a personal loan. The initial lower costs of personal loans are lesser than a mortgage, but interest rates can be very high, and it may prove expensive in the long run.
Some banks provide chattel mortgages, which you can use to purchase movable properties. This means that you can use your park model home as collateral, and the bank can seize your home if you fail to pay the loan.
Lastly, you can apply for an RV loan. RV loans are generally lower than personal and chattel loans. Some banks even offer RV loans of up to $150,000 with APR as low as 5.3%
Planning and Design

You'll need to meet with representatives from the turnkey company. Here, they'll provide you with a detailed itemized list of the materials and consumer items your park model home will need to function. You'll also get a building schedule.
This gives you a clear view of where you'll be spending your money so that you can make effective buying decisions.
Build Order
After the planning and design stage, you can proceed to the build order contract stage. The building stage for park model homes usually takes about 7 to 10 weeks to complete. 
The turnkey company will also clearly define the full cost of your build plus their profit in your build order contract.
What is a Park-Model Home
Park-model home is neither an RV nor a manufactured home. This type of home is built according to the RV industry code but usually in the same factories that produce manufactured homes, so the same quality and modern design rules apply.
15 Stunning Floor Plans for Park Model Homes
Here are some floor plans for park model homes that you will like:
1.
5.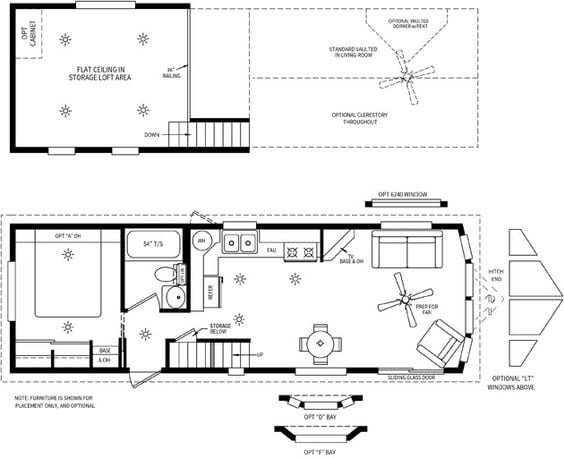 12.
14.
15.
Value of Park Model Homes to Homeowners
In terms of value, park model homes offer good investment to homeowners. A park model home can last up to fifty years with little maintenance. Several people do not buy the idea of park model homes because they question their durability, but their lifespan is the same, sometimes better than that of a tiny home. 
Park home model manufacturers also support green construction during the building process. This ensures that they protect the environment by conserving resources. 
Also, living in a park home helps you live smaller as a homeowner. Living smaller is living smarter because you spend less and can save. You can also conserve your time and energy when you downsize and live in a park home, focusing on other areas of life that are important. 
Further, you can discover your intrinsic values, and what matters to you, and focus on them. 
When you live smaller, it doesn't mean you live in a limited space. Park model homes are designed to suit your personality and comfort. So, you can be sure that you'll be living a very comfortable life.
Procedure for LEED Certification for the Park Model Home
LEED is a reference guide for building and construction. There are eleven phases in this procedure. They include:
Initiate discovery phase

Select the LEED rating system

Check minimum program requirements

Establish project goals

Define the LEED project scope

Develop LEED scorecard

Continue discovery phase

Continue iterative process

Assign roles and responsibilities

Develop consistent documentation

Perform quality assurance review and submit for certification
Initiate the Discovery Phase
At this point, initial research and analysis begin. After gathering enough information, you need to hold a goal-setting workshop to discover your findings.
Select LEED Rating System
The LEED rating system consists of about 21 different adaptations for accommodating the needs of different sectors. You'll need to choose the adaptation and rating that is most suitable for you to develop a successful approach.
Check Minimum Project Requirements
All projects that seek LEED certification should comply with the minimum program requirements (MPRs) for the applicable rating system. These program requirements are available on the USGBC website's rating system.
Establish Project Goals
Here, you need to arrange the strategies with the context of the project and the value of the team, according to priority. Once you can articulate these values, the project teams will be able to choose the strategies that align with LEED credits to meet their goals. 
It can be by convening a goal-setting workshop for the members of the project. They need to understand the budget and functional pragmatic requirements of the owner. Also, the goals, quality, scope, and performance targets are equally important as well.
The workshop should occur before any design work begins to capture the most opportunities.
Define LEED Project Scope
There needs to be a review of the program of the project. Special consideration should be in place for campus or off-site amenities.
Next, mapping of the LEED project boundary along property lines should occur. Project boundaries may not be obvious due to partial renovations, and multiple ownership, among other reasons. In cases like this, the team will need to decide since the definition of the lines affects multiple credits. 
Finally, they'll need to investigate any certification programs that the scope of the project can make use of. If the owner of the project is planning multiple projects, the volume may be best for streamlining certification. The campus may be best if the project includes multiple buildings.
Develop LEED Scorecard
You need to identify credits and options within the team by using project goals. The option should align to bring value to the owner and the project. The environment and community are also important factors to consider as well.
During this process, the main focus should be on the team with the highest value for the project. After selecting the major credits, it is vital to identify other credits that provide similar advantages. 
Finally, establish the certification level and point out the extra credits the team needs to achieve it. Ensure you can meet all prerequisites for design and construction.
Continue Discovery Phase
The members of the project team should carry out extra research analysis. They should refine, test alternatives, compare notes, and create ideas during meetings. Cost evaluation is also important as well. 
The project team should occasionally hold meetings to discuss the important benefits and opportunities that the project presents. It allows them to discover new opportunities and raise important questions.
Continue Iterative Process
The pattern of research and analysis that the team workshop follows should continue until the owner of the project and the team are okay with the solutions.
Assign Roles and Responsibilities.
Choose one team member to be in charge of leading the group through the process of LEED application and documentation. The role may change from the design phase to the construction phase. However, both leaders should involve themselves throughout the entire process. It will help to ensure clarity, consistency, and an integrative approach. 
There can also be a cross-disciplinary team for LEED credit compliance. Assign primary and supporting roles to appropriate team members to achieve credit and documentation. Ensure that all design decisions have proper representations in drawings and specifications. Also, ensure that details of construction tally with design recommendations.
Develop clear channels of communication. It will help you streamline the process and quickly resolve any problems that may occur.
Develop Consistent Documentation
You need consistent documentation to achieve LEED certification.
All the data that you accumulate throughout the entire process of construction will undergo assessment. Gathering and evaluating quantities of construction materials at regular intervals will help the team track the process. It will ensure that there is no omission or loss of information.
Perform Quality Assurance Review and Submit for Certification
A quality assurance review is vital for LEED certification. A thorough performance check can improve clarity and consistency. It will help you avoid errors that require time and expense to correct later during the process of certification. Ensure you thoroughly check and proofread the submission for completeness. 
Numeric values that appear throughout the submission must show consistency across credits. For instance, the site area.
ANSI Standards for Park Model Homes
A park model home must meet up with the American National Standards Institute (ANSI) and wind zone requirements. The ANSI sets standards and advises about how to improve the quality and safety of products including park model homes.
It establishes the minimum requirements for the installation of electrical, plumbing, construction, fuel burning, and other safety-related systems in park model homes. The manufacturers of park models should comply with this standard.
Best Ways to Optimize Park Model Homes' Floor Plan Designs for a Maximum Space of 399 sq. ft.
Highlight Your Assets
It is vital to know what you'll need most and what is important to you. Plan your living space accordingly to give space for attention to what is most essential. If you don't plan well, you may end up going above your budget and overspending. 
Be Practical
Although there are gorgeous floor plans, a simple one might just be best for you. Endeavor to always go for comfort first before aesthetics. 
Ensure you allocate enough space to major areas like the living room and bedroom. This is because these are the places you'll likely be in most often in your park model home. 
Safety
When designing your floor plan, visualize how you will interact with the space to minimize the risks of accidents. For instance, do you plan to make a loft? If so, will you need a ladder or stairs? 
Knowing how you will interact with your space is paramount to enjoying comfort in your park model home. 
Good Layout
Don't wait until you're done building. Draft out the vital spaces while drawing your floor plan. It will help your planning come out better.
Ensure that the floor plan is well drafted and that everything is set right. For instance, you don't want the kitchen to be too close to the bathroom, and you don't want the loft to be too small to contain you!
Standard Construction Features for Park Model Homes
Standard construction features for a park model home include:
Options for screened-in front or rear decks as well as lofts and bunks

Sidewalls of 90"

Rounded corners on walls and ceilings

Cedar wainscoting and trim (optional)

Insulated heat ducts made with fiberglass

Insulated vinyl windows

Energy savings with a full house wrap
Apart from these standard construction features, you can be innovative in recreational living features for a park model home. Here are 7 ways to do that:
Fold down furniture

Tape out walkways

High tech automation

Floor-to-ceiling windows

Big open spaces

Colorful artificial lighting

Radiant floor heating
Conclusion
Park model homes have similar designs to standard housing unlike tiny homes on wheels and other prefab homes. They also offer several advantages including tailored lifestyles, savings, and higher standards.
Park home is neither an RV nor a manufactured home. This structure of this type of homes is according to the RV industry code but usually in the same factories that produce manufactured homes, so the same rules for quality and modern design apply.
The stylishness, comfort, investment opportunity, green living, and effectiveness that they offer are top-notch, making them a wonderful option for homeowners.