Tiny houses on wheels are fast becoming the trend among young people. Especially young and adventurous couples with small families.
Homeowners have the liberty of living in different environments and spaces. It allows them for a nomadic lifestyle, especially for those who don't fancy living in a fixed house. 
An ideal tiny house on wheels becomes the most preferred option for people working from remote locations and on the move. It is due to its flexibility and compact living conditions.
Now, with the right ceiling types,  you can make that tiny house not so tiny-looking but brimming with aesthetics and elegance. All it takes is knowing the different ceiling types that fit right into a tiny house on wheels. We will examine them as you continue reading.
Cathedral or Vaulted Ceiling

A cathedral or vaulted ceiling design in a tiny wheeled house is one design that gives the interior of the house a:
Sophisticated

Dignified

Classy look
As the name implies, this ceiling type has a semblance to the structure of a typical cathedral. It has an arched design and the center of the ceiling extended to an impressive height. This makes it possible to have that arched look and increase the ceiling's height.
Aside from these, the Cathedral or Vaulted ceiling creates enough space to add decorations to your house's interior. This tiny house ceiling is more suitable for the living room.
Cathedral ceilings are better matched with larger windows. Together with the vertical spaces, allow for more natural light and airflow.
Coffered Ceiling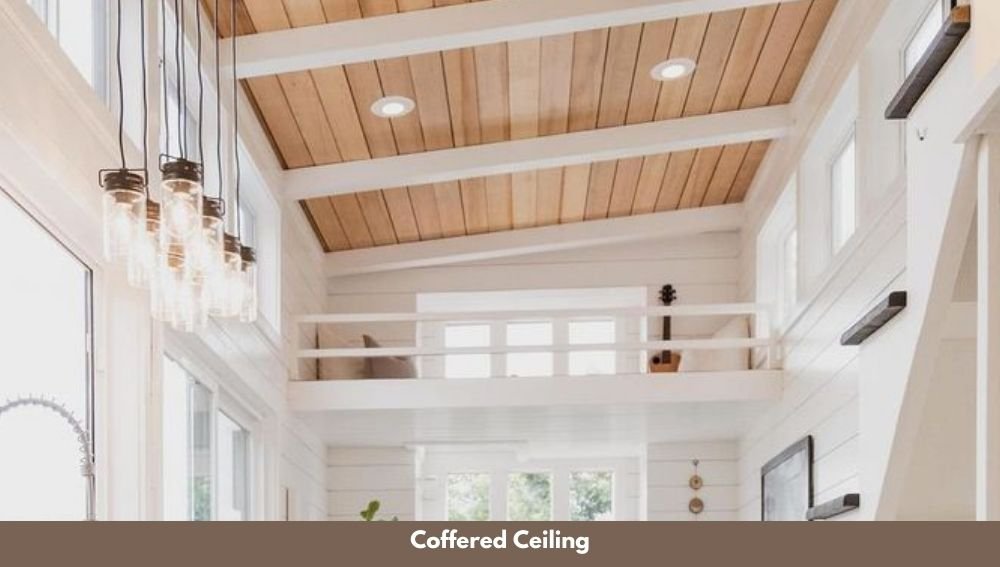 Craftsmen make coffered ceilings with unique shaped panels. They embedd them deep into the top, squared, rectangular, or octagon shapes. They also call these recessed panels 'lacunaria,' meaning openings or spaces. 
The indentations in these ceilings make them appear to be higher. Still, they are highly sound-absorbing, preventing echoes and noises from escaping into other rooms.
When choosing this particular ceiling for your tiny house on wheels, ensure the beams are high enough. The goal is so they don't seem to brush over your head.
Coffered ceilings take up space due to the protruded cross beams. They often used them to give the ceiling top its unique decoration. This is why you need enough height. Although they go well with modern interior decorations, a traditional look often makes the room exude a better ambiance. It gives you a warm and welcoming feeling.
Conventional or Convertible Ceiling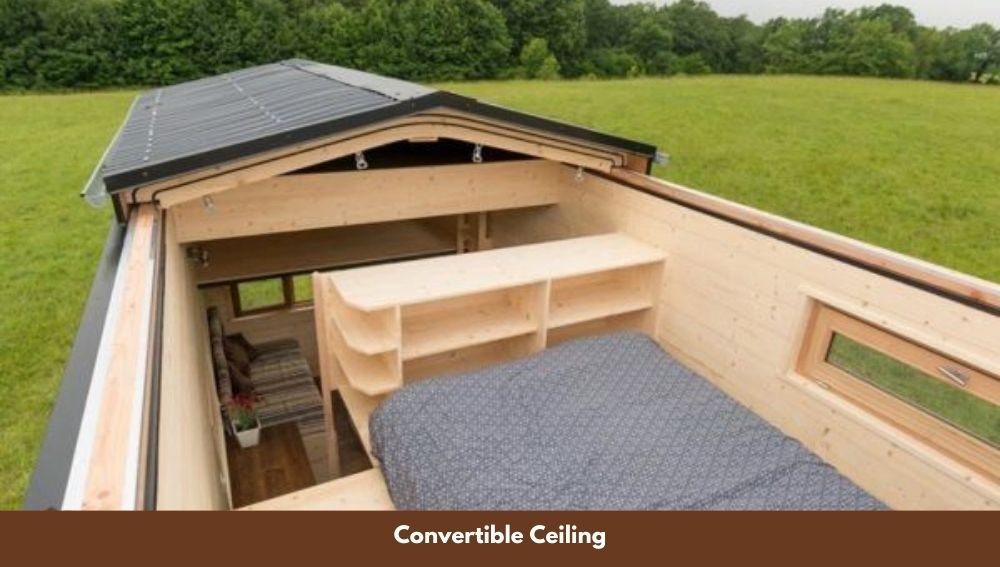 A conventional or cenvertible ceiling type is a surface you can cover with drywall and textured plaster after setting it up horizontally on the top.
Their easy-to-create natural yet simple look makes them perfect for tiny houses on wheels. Their structure allows for a compact minimalist style furniture arrangement.
You can usually design them with an eight to ten feet height. It would give you room for decorative art pieces to compliment the house's interior layout.
Tapestry Ceiling
Tapestry ceilings usually have a hanging, artistic woven, decorative cloth attached to them. These clothes come with pictorial designs. You can weave to form beautiful patterns.
Tapestry ceilings make your typical tiny house on wheels more attractive and appealing. Tapestry designs for beds and walls are most likely a more familiar sight.
You can have a tapestry:
Glow-in-the-dark

Starry design

Natural tree-design ceiling

Traditional sculpture

Floral design

Among many others
One thing you may come to know about tapestry ceiling designs for, is the supernatural feel they give to a home. You get this feeling of majesty and power when you walk into a room with tapestry ceiling designs.
Shed Ceiling

A shed ceiling is usually higher at one angle than the other. It has a  sloppy structure which prevents water from gathering at the top. This is because the steepness of the slope makes it easy to drain excess water from rain or snow—as the case may be.
Many tiny houses on wheels maximize this type of ceiling because it is suitable for small outbuildings and garages.
For small or larger rooms, shed ceilings suit for modern homes. They also give space for skylight installation.
The three most common types of shed ceilings are the:
Open rafter ceiling

Drywall ceiling

Wood ceiling
The wood ceiling is perfect for a tiny wheeled home.
Box Beam Ceiling

The beautiful thing about box beam ceilings is that you can fix them in any room and match them with any design plan.
Design the box beam to create a repeated box-like pattern by fixing hollow shafts to the ceiling. 
Woods such as cedar, poplar, and alder are common materials used for this type of ceiling.
Also, for tiny houses on wheels, the beams you have used before you can make use to this effect. These beams are valuable and give the house a rustic ambiance. 
Panel Ceiling

You can find panel ceilings suspended making them look as if they are floating. They often reduce the height of a room appearing too high.
They also come with a hidden light structure and a flat surface. Besides, they are very easy to install.
A cold room could be more pleasant. One of the main advantages of panel ceilings is that they have strong insulators. They help keep the heat in your tiny house of wheels.
Also, they keep sounds from escaping a room and are fire-proof.
Panel ceilings are beautiful to behold. Panel ceilings are suitable for you when you want to enjoy the warmth and have a beautiful aesthetic design in your tiny house on wheels
Exposed Ceiling

Design exposed ceilings – otherwise called  'open ceilings or open plenums,' to reveal the materials used in their construction.
They give this feel of originality when fixed in a room. For one who doesn't like the regular ceiling,  exposed ceilings are unique for any tiny house of wheels.
Exposed ceilings give room for creative juices to play around with designs. This is especially true with custom lighting. It adds extra open space where electrical fixings can serve as elements for decorations.
Besides, exposed ceilings make the room cooler, as humid air can go up into the extra spaces.
Cloistered Ceiling
You can structure a cloistered ceiling to have many arched designs springing from the corners of the walls and extending to the ceiling top.
It is a flexible type of ceiling that accommodates all interior design styles. You can maximize unused open spaces in the ceiling top, and it provides enough ventilation and cooling advantages.
Conclusion
You can enjoy tiny houses on wheels for their best ceiling functionality. One of the ways you can achieve it is with the right ceiling type and height to allow proper airflow and a unique ambiance. Your goal is to have ample space surrounding it. Unlike in traditional homes, you can enjoy the aesthetics, comfort, and productivity in tiny houses on wheels.