Tiny Home Builders In Cape Coral
Do you need a home of your own? Are you looking for ways to save money? Then you should buy a tiny house on wheels. Why not rest in one of these fantastic tiny houses and enjoy yourself after a long and busy day at work? If you have ever thought of owning a home, renting a tiny house is another affordable option. Why not consider a gorgeous tiny home on wheels in Cape Coral?
We always ensure that all our clients get what they desire.
We maintain our reputation as reliable and respectable tiny home-on-wheels builders. Our moral values include the following:
Good project management

Proper communication

Honesty and integrity
We incorporate all these principles to ensure our clients get their desired outcomes.
Tiny House or Park Model Home Builders in Florida
Tiny Home Builders Florida offers over 6 models of modern farmhouse-style tiny homes on wheels. Our tiny home on Wheels typically have unique design elements like Lofts, fireplaces, and apartment-sized appliances.
ROOMETTE
The ROOMETTE is a winsome trailer that radiates tranquillity and offers a peaceful that also looks very beautiful home to its residents.
GREENFEST
This classically inspired farmhouse styled tiny home packs a big punch into a small space with large black windows and a modern interior design.
HEAVEN
A stunning rustic, yet refined tiny house on wheels with two spacious lofts, a modern kitchen, and a large bathroom suite.
SUMMER JOY
The SUMMER JOY is a Modern tiny house that tends to take your breath away with its fine design, beautiful appearance and a modish theme.

SEASHORE
An affordable tiny house with the basic necessities and a lot of windows throughout. Full kitchen and a full bath make it ideal for all lifestyles.

MAGNOLIA
The MAGNOLIA is a dreamy tiny home, with a private living room, a main floor bedroom with space to walk around the bed, and a functional kitchen with all of the extras.
Tiny Home Builders Cape Coral
Did you know that Cape Coral is an excellent place to live in a tiny house on wheels? Another good news is that Tiny Home Builders Cape Coral has been building premium custom tiny homes in Cape Coral and other surrounding areas. It is great news, especially if you have been looking for ways to get a tiny house on wheels in Cape Coral. 
We are Tiny Home Builders Cape Coral. We have all the experience and expertise needed to construct your tiny house and design it according to your taste and lifestyle. Our designs are uncommon and unique. You can always trust us if you need a tiny home builder in Cape Coral. 
We also build tiny custom houses. Just let us know what you want, and we will construct it for you.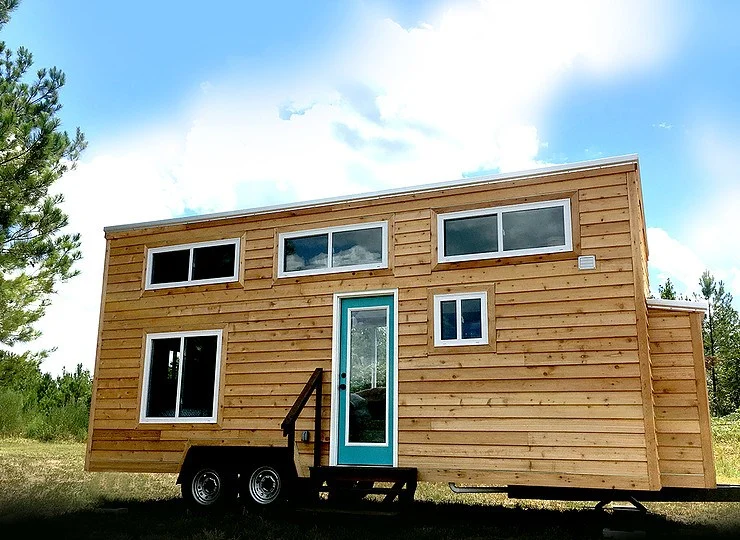 Cape Coral is one of the best places to enjoy living in a tiny house. It is a beautiful environment for residential purposes and business opportunities. People living in the area enjoy the serenity and calmness of the environment. Cape Coral has several land lots, and you don't have to worry about zoning laws and building codes. Tiny Houses on Wheels is becoming an increasing movement. 
Several people know that a tiny house can provide everything they need without taking away elegance and comfort. You also don't need to worry about space when we construct your tiny home on wheels. We take your hard work, so you don't have to worry. Models in our Cape Coral stylish designs come with the following:
Strong structure

The best kind of finishes

Elegant designs
It is so that you can enjoy living in your tiny house on wheels. 
Our customers love us because, apart from the excellent work we provide, our tiny homes come at affordable prices. We also offer warranties on all of our tiny homes. We can help you customize your tiny home on wheels however you want. Home is one of the best places you can find yourself. Let TinyHomeBuildersFlorida.com make it better.
Welcome to Tiny Homes Builders, Cape Coral
Do you have a job, family, or other stress factors? Do you want to buy your own house without incurring mortgage debts or repayment loans? Tiny Homes Cape Coral offers some of the best home values at low prices. All these houses have excellent structures and designs. You can choose from our tiny home design collection, and we will help you bring it to life. You can buy a custom-built home if you don't like what you see in our collection. Owning a tiny house can help you achieve your long-term and short-term goals. Apart from freeing up time, it will save you lots of unwanted expenses and stress. 
Tiny home builders Cape Coral does not offer only small houses. We offer lifestyles and real housing solutions. We provide several kinds of designs for every type of lifestyle. If you don't have a place to put your tiny house, we can help you out. 
Tiny homes on wheels are the wave of the future. Our Cape Coral tiny homes are one-bedroom, two-person, elegant, and beautiful homes with all the modern amenities you need to live a comfortable life. 
If you like to live well in a small house or want to avoid all the problems conventional places offer, you should consider buying a tiny home on wheels. 
Tiny Home On Wheels, Unique In Every Way
The tiny homes on wheels movement keep growing. It is because of all the benefits it has to offer. It provides economic liberation, financial freedom, and a better connection to the environment. People can connect with nature better and reduce their carbon footprint. Since you spend less money, wastage is minimal. 
If you want to live rent-free and off the grid in a comfortable home that you love, you should live in a tiny house. It has all the necessary amenities to live well and achieve vital goals.
Our low prices will allow you to save more money and still enjoy yourself. You can also decide to travel around in your home because your house has wheels.
You can also read: Tiny Home Builders