Tiny Home builders in Coral springs
Do you plan to move to coral springs? Are you seeking a business or vacation in coral springs? Getting a tiny home on wheels is your best decision. There are a plethora of many beautifully designed homes which are great for you. 
These tiny houses are comfortable and specially designed to fit your needs. After working yourself out, going to a tiny home on wheels looks nice.
If your budget isn't enough to buy one, you could try to rent one. You should try to buy a custom-made Tiny Home on Wheels in coral springs.
We help design and build tiny homes on wheels to your specifications. Our customers know what we can do and are assured of the best services when it comes to tiny Homes on wheels. We do our best to satisfy our clients and are known as the best tiny home builders around coral springs. We are known for these values:
Simplicity

Accountability 

Honesty

Creativity

Value-centricity.
We follow the industry principles of home building and ensure our clients are well satisfied. We are a legal firm expert in tiny houses on wheels crafting. Contact us today.
Tiny House or Park Model Home Builders in Florida
Tiny Home Builders Florida offers over 6 models of modern farmhouse-style tiny homes on wheels. Our tiny home on Wheels typically have unique design elements like Lofts, fireplaces, and apartment-sized appliances.
ROOMETTE
The ROOMETTE is a winsome trailer that radiates tranquillity and offers a peaceful that also looks very beautiful home to its residents.
GREENFEST
This classically inspired farmhouse styled tiny home packs a big punch into a small space with large black windows and a modern interior design.
HEAVEN
A stunning rustic, yet refined tiny house on wheels with two spacious lofts, a modern kitchen, and a large bathroom suite.
SUMMER JOY
The SUMMER JOY is a Modern tiny house that tends to take your breath away with its fine design, beautiful appearance and a modish theme.

SEASHORE
An affordable tiny house with the basic necessities and a lot of windows throughout. Full kitchen and a full bath make it ideal for all lifestyles.

MAGNOLIA
The MAGNOLIA is a dreamy tiny home, with a private living room, a main floor bedroom with space to walk around the bed, and a functional kitchen with all of the extras.
Tiny Home Builders Coral Springs
At Tiny Home builders Coral Springs, we ensure our clients get the best product without affecting our quality. Our homes consist of one bedroom, which can accommodate two people. These homes are well-designed and comfortable. 
We can move these tiny homes on wheels to your preferred location quickly. Coral springs is a conducive area for tiny homes on wheels, so you don't need to stress yourself.
We manufacture all our tiny Homes from quality materials available. They are strong, elegant, and stylish. All our tiny Homes have energy-efficient features, which means you pay less on light bills.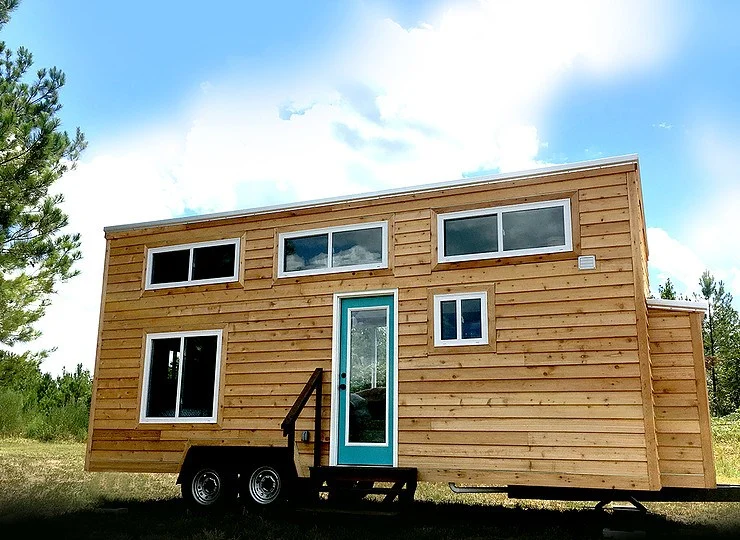 Moreover, we build these tiny hikes fully equipped with facilities that will improve your stay. We integrate a sound lighting system that allows natural light to circulate in your room. 
We provide our customers with a unique home design they love. Our tiny home comprises all the needed facilities without affecting your budget.
 If you are seeking a trendy home with a bit of minimalism and unfathomable beauty, we are at your service. All our tiny Homes come with :
Smart Home Technology

Good ventilation system

Workspace 

Efficient energy design.
These features make you enjoy your rest and allow you to enjoy your home without problems.
Our customers know our homes are affordable and durable. We offer ideal warranties, and you can have a good bargain for an excellent product. Our craftsmen tailor these homes to your needs. Contact us today to build you a lovely home.
Welcome to Tiny Home Builders Coral Springs
People seeking a quiet and serene location from work stress should consider getting a tiny home on wheels. Tiny Homes Coral Springs provides many stylish and affordable homes for those seeking quality houses in Coral springs. You can get well-designed small houses at reasonable rates.
Furthermore, we can assist you in crafting your dream home. We are the best at offering customer houses that suit your needs. 
Everyone needs a house because of different reasons. Some want privacy, others are moving temporarily for vacation reasons, and some just want a quiet environment. We can offer you excellent tiny homes on wheels at low prices, and you can have a nice time.
Also, when you stay in a tiny home, you live with people you love. It is an excellent place to bond with your partner and have that intimate moment. You could also get a tiny home on wheels if you work remotely from the comfort of your home because it is quiet and pleasant.
At Tiny Home builders Coral Springs, we provide more than just a place to live. You get a friendly lifestyle. Having a work-life balance is vital for everyone. That's what we provide for all our customers. 
You can choose from many good designs that will suit your taste. Tiny Homes is the hope for housing solutions now and in the future. Talk to us today if comfort and serenity are all you desire in a home. Contact us today for people staying in conventional homes and needing something different.
Tiny Homes On Wheels Unique In Every Way
If you are wondering why you should patronize us and what makes us unique, look no further. 
We are the best in providing tiny houses on wheels to all our clients. Our experience seeks us as we have been in this business for years. Our customers are our aim, and we go out of our way to ensure they are adequately satisfied.
 We are your sure bet if you desire a home that combines anonymity, security, and comfort. Our prices are mouth-watering, and you will get a good deal on all the tiny houses on wheels you get from us. We provide homes that are off-grid and mobile for all our customers. 
You don't need to break the bank before you can get any of our houses. They are affordable for everyone. You can have big fun with your family and friends in your new chic tiny home. Make your dream a reality today!
You can also read: Tiny Home Builders