Tiny Home Builders In Gainesville 
Are you visiting Gainesville for work or pleasure? Do you wish to move to Gainesville to live there? If you answer yes to these questions, a tiny home on wheels might be what you need to make your stay the most comfortable it can be. And if you feel buying a tiny home is stretching it, you have the option of renting one. Purchasing a tiny home in Gainesville can be one of the best decisions you would make upon visiting the place.
We are the best at what we do, and our customers trust us for this and more reasons. We build the best tiny homes in Gainesville. Our clients attest to our reliability. Consider our values which are:
Honesty and trust 

Optimal business-client communication

High-quality product outcomes
Tiny House or Park Model Home Builders in Florida
Tiny Home Builders Florida offers over 6 models of modern farmhouse-style tiny homes on wheels. Our tiny home on Wheels typically have unique design elements like Lofts, fireplaces, and apartment-sized appliances.
ROOMETTE
The ROOMETTE is a winsome trailer that radiates tranquillity and offers a peaceful that also looks very beautiful home to its residents.
GREENFEST
This classically inspired farmhouse styled tiny home packs a big punch into a small space with large black windows and a modern interior design.
HEAVEN
A stunning rustic, yet refined tiny house on wheels with two spacious lofts, a modern kitchen, and a large bathroom suite.
SUMMER JOY
The SUMMER JOY is a Modern tiny house that tends to take your breath away with its fine design, beautiful appearance and a modish theme.

SEASHORE
An affordable tiny house with the basic necessities and a lot of windows throughout. Full kitchen and a full bath make it ideal for all lifestyles.

MAGNOLIA
The MAGNOLIA is a dreamy tiny home, with a private living room, a main floor bedroom with space to walk around the bed, and a functional kitchen with all of the extras.
Tiny Home Builders Gainesville 
Do you know that tiny homes are a big trend in Gainesville? If you are moving to the county, you might as well have yourself a tiny home. We at Tiny Home Builders Gainesville have been in the home building business for more than ten years. Your dream of having a tiny home in Gainesville can now finally come to pass. 
You will enjoy owning a tiny home in Gainesville. The city is known not just for the presence of the University of Florida but also for the museum of natural history. There's the Harn museum of art and the Butterfly rainforest. Owning a plot with your own tiny home allows you to enjoy all the nature and architecture of Gainesville. Although there are laws that guide how you own a tiny house in the city, the clientele has grown.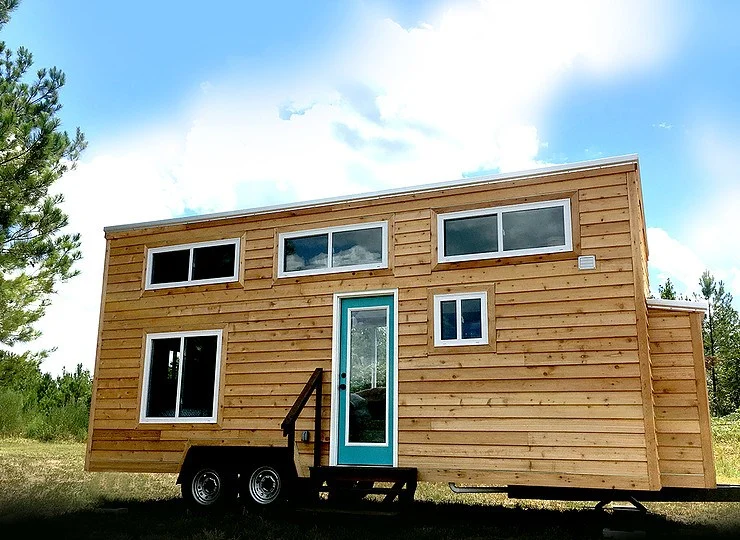 Folks now understand the benefits of tiny homes. They love the flexibility of style it provides and the comfort that comes with the simplicity of tiny homes. We have many designs in our tiny home design collection that will appeal to you. Each design model comes with the following features:
A sturdy construction

Ample space 

An aesthetic finish 
All the essential features a home needs to make you yearn always to want to return to it. 
Our homes are affordable for everyone, and our services come with warranties too. Our process allows you to contribute to the design specifications of your home. Your input is critical to us. We are always ready to build your home at TinyHomeBuildersFlorida.com
Welcome To Tiny Homes Builders, Gainesville
In Gainesville, Tiny Homes Builders Gainesville is the best in the area. We are fully licensed to build tiny homes on wheels. We have a specialty you can trust for a full service. Our expertise is recognized in the whole of Gainesville and in the surrounding cities. We build homes conforming to Gainesville's building and land laws, and our homes can travel anywhere in the country. 
We are confident in our skills and the strength of our services. We have more than a decade of experience to back our claims. We aim to build homes of the highest quality that are structurally sound providings a safe and comfortable living experience for our clients. We make sure to use the best materials and products in construction and then put it all together using the best craftsmanship in the building industry. 
Tiny Home Builders Gainesville doesn't only build structures. We infuse the client's style into the design. We believe the construction of homes should consider the personality of the person living in it. We create the space. You fill it with your individuality. 
We encourage you to consider buying a tiny home if you are over-living in conventional city homes but still want to live in the area. 
Tiny Homes On Wheels, Unique In Every Way
Why have tiny homes on wheels gained popularity? The answer is not far-fetched. More and more people are beginning to appreciate the freedom of nature and community. They want the financial and economic independence from less clutter and waste. Besides all these, tiny homes offer a living experience that's easy to maintain. 
Tiny homes offer an improved quality of life because your living space is compact, making you more self-aware. You have little to organize around you, so there's more time to spend outdoors accomplishing more for yourself. You experience more energy because you have rid your home of unnecessary stuff that would ordinarily have taken up space in your life. Whatever you have in your home is necessary; hence you spend less time cleaning, organizing, and generally maintaining your home. Consequently, you would have saved more money on other vital areas of your life. 
Living in a tiny home also affects you in even deeper ways. For example, it encourages financial discipline as you learn to spend on only things you really need or what your home essentially needs. You are more focused on things that affect your personal growth. You focus on values rather than on material things. 
If you've always wanted to know what it feels like to live free, off the grid, and on wheels, a tiny home on wheels can provide you with the perfect opportunity. A tiny home allows you to live a self-sufficient life as it features all the essential things you need, minus the frivolous ones.
Your family can enjoy spending the extra funds on other things because of our low prices. What is more? Your home is on wheels so that you can travel anywhere. 
You can also read: Tiny Home Builders