Tiny Home Builders In Jacksonville
Are you relocating to Jacksonville? Or you're going on a visit? Are you going to be in Jacksonville for business or vacation? A tiny home on wheels may be the best option for you. Why not settle in one of these beautifully crafted little houses made for your comfort? Home is the best place to go after a long day's work, and we've created this tiny house on wheels home. If you cannot buy one, renting is the next best option. Buy a tiny custom home on wheels in Jacksonville.
We craft beautiful tiny homes on wheels. We are one of the best in the industry. Our clients know this and always trust us to deliver, so we work hard to ensure their satisfaction. We are known as reliable and respectable tiny home builders. Our values include the following:
Good work ethics

Solid project management

Honesty

Reliability
All practiced principles that we adhere to to ensure the best experience for our customers.
Tiny House or Park Model Home Builders in Florida
Tiny Home Builders Florida offers over 6 models of modern farmhouse-style tiny homes on wheels. Our tiny home on Wheels typically have unique design elements like Lofts, fireplaces, and apartment-sized appliances.
ROOMETTE
The ROOMETTE is a winsome trailer that radiates tranquillity and offers a peaceful that also looks very beautiful home to its residents.
GREENFEST
This classically inspired farmhouse styled tiny home packs a big punch into a small space with large black windows and a modern interior design.
HEAVEN
A stunning rustic, yet refined tiny house on wheels with two spacious lofts, a modern kitchen, and a large bathroom suite.
SUMMER JOY
The SUMMER JOY is a Modern tiny house that tends to take your breath away with its fine design, beautiful appearance and a modish theme.

SEASHORE
An affordable tiny house with the basic necessities and a lot of windows throughout. Full kitchen and a full bath make it ideal for all lifestyles.

MAGNOLIA
The MAGNOLIA is a dreamy tiny home, with a private living room, a main floor bedroom with space to walk around the bed, and a functional kitchen with all of the extras.
Tiny Home Builders Jacksonville
At Tiny Home Builders Jacksonville, we ensure that we provide affordable high-end living without sacrificing the quality of our tiny homes on wheels. Our homes come in one-bedroom for two persons, comfortable and elegant. They are fully moveable, and you can get them to the location of your choice without stress. Jacksonville is also a good location for tiny homes, so you don't have to worry.
We make our tiny home structure from the most durable and best materials. They are much stronger than conventional wood framing. The homes are highly energy efficient, conserving heating and cooling and reducing energy bills.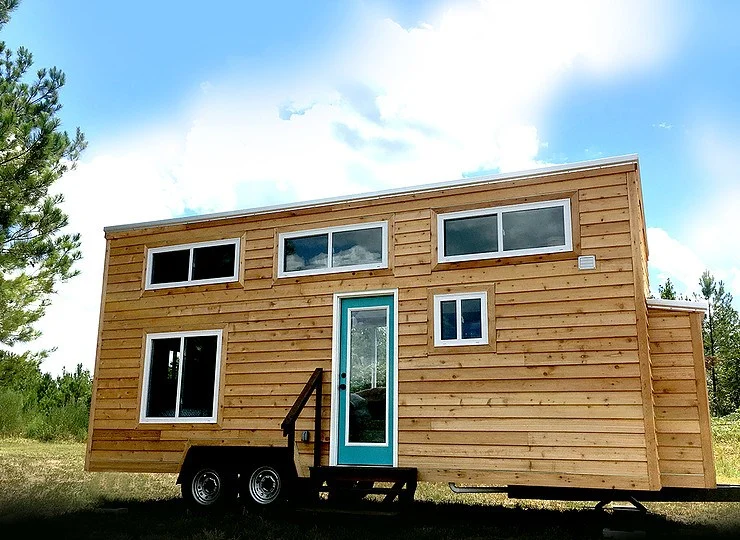 The home is also fully equipped with all the needed essentials. We incorporate an open concept that allows plenty of natural light to flow in the living spaces. Our collection of small home designs is timeless and elegant. They're also uncommon because they're custom.
A tiny house can give you everything you need without taking away your comfort. It gives you beauty, minimalism, and space all in one. Out tiny homes come with:
The best and most durable construction

Aesthetic finishing

Energy efficiency
So you can enjoy your tiny home on wheels without stress.
Our clients love our prices because they're affordable, and we give the surest warranties. You can customize your tiny homes however you like – even down to the last bolt. Let's make you a cozy home at TinyHomeBuildersFlorida.com
Welcome To Tiny Home Builders Jacksonville
Do you have a job or family? Do you want to live alone? Are you looking for an escape route from the stresses that come with everyday life? Tiny Homes Jacksonville offers some of the best options in Jacksonville and other surrounding locations. Our customers enjoy several small house designs at meager prices. 
We can help you design your dream home. Providing custom homes that suit your needs is what we love to do. Owning a tiny house is a good decision because it helps you downsize. Let's make that decision even better. Allow our small homes on wheels to help you free up your money and time so that you can enjoy a lifestyle of adventure and fun. 
Living in a tiny house means spending close time with someone you love. If you have a partner, you can bond better over activities instead of watching TV or reading in separate rooms. You have minimum energy bills because there is less to heat and cool. As a result, you can save significant amounts of money.
We don't only offer homes at Tiny Home Builders Jacksonville. We offer opportunities and a healthy lifestyle. We offer a work-life balance and real-time solutions to match unique needs. We offer a variety of designs for people looking to be tiny homeowners. We offer care and satisfaction.
Tiny homes are the housing solutions of the future. We will provide that solution for you now with all the amenities you need to live a lifestyle of comfort.
If you live small in a big city but find out you don't like conventional homes or are unable to afford them, contact us for your tiny house.
Tiny Homes On Wheels, Unique In Every Way
Do you wonder why people embrace the tiny homes on wheels movement? Because it makes sense. It is about achieving the best life and living your dreams every day. It offers a connection to the environment, nature, and community. It's about having financial freedom. Plus, you encourage sustainability and green living.
Live off-the-grid and rent-free in a self-sufficient mobile home. Live in a home that provides everything you need to thrive.
What more? Our prices are so low that you'll have enough money to carry out more fun activities with family and friends. You can also decide not to sell your home for many years.