Tiny Home Builders In Miramar
Would you like to spend your vacation in Miramar and need a place to stay? Are you considering relocating to Miramar, and you're yet to get your apartment sorted out? We've got you covered so you can start packing your bags! 
Right at the heart of South Florida, Miramar is one of Florida's best locations to live. However, it would be best if you had the perfect accommodation facility to make the most of your time in Miramar, and a tiny house on wheels might be your best option.
There are several options available for acquiring a tiny home on wheels in Miramar, but buying one is the best.
Buy a tiny house on wheels in Miramar and experience your most helpful life.
We are the best in building lovely mobile miniature houses in Miramar. We have years of experience in the tiny home industry and the best hands in the field. You can always trust us to deliver your dream tiny home. We offer:
Honesty and Aptitude

Market insight

Best-quality building materials

Best tiny home plans

Amazing client relationship

Prompt conveyance
Tiny House or Park Model Home Builders in Florida
Tiny Home Builders Florida offers over 6 models of modern farmhouse-style tiny homes on wheels. Our tiny home on Wheels typically have unique design elements like Lofts, fireplaces, and apartment-sized appliances.
ROOMETTE
The ROOMETTE is a winsome trailer that radiates tranquillity and offers a peaceful that also looks very beautiful home to its residents.
GREENFEST
This classically inspired farmhouse styled tiny home packs a big punch into a small space with large black windows and a modern interior design.
HEAVEN
A stunning rustic, yet refined tiny house on wheels with two spacious lofts, a modern kitchen, and a large bathroom suite.
SUMMER JOY
The SUMMER JOY is a Modern tiny house that tends to take your breath away with its fine design, beautiful appearance and a modish theme.

SEASHORE
An affordable tiny house with the basic necessities and a lot of windows throughout. Full kitchen and a full bath make it ideal for all lifestyles.

MAGNOLIA
The MAGNOLIA is a dreamy tiny home, with a private living room, a main floor bedroom with space to walk around the bed, and a functional kitchen with all of the extras.
Tiny Home Builders Miramar
At the center of South Florida, you can find the City of Miramar between Miami-Dade and Broward Counties. Amusingly, Miramar is a Spanish word that means "Sea view" or "Behold the sea ."Miramar gives you access to the most amazing views, fantastic weather, a wide range of employment opportunities, and many more.
Miramar has witnessed remarkable economic and community growth and development in recent years. The City houses more Fortune 500 organizations than all other cities in South Florida. At large, Florida is a region with a diverse, intriguing cultural heritage. It is known for its beautiful beaches, tropical climate, and many other tourist attractions, and Miramar is one of its best cities.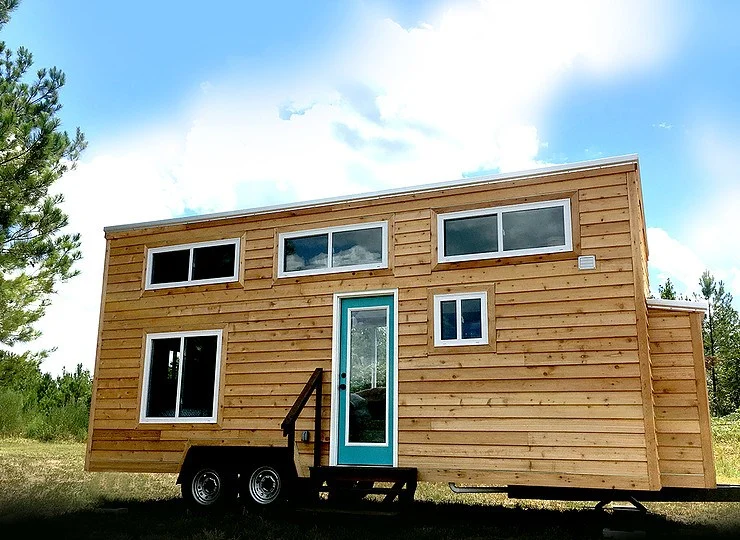 Tiny homes on wheels have become a trendy housing option in Miramar and are supported by the City's authorities. The City of Miramar's land development code recognizes and permits tiny houses on foundations as accessory dwelling units in all its residential districts. However, the regulation mandates a 300 feet square minimum floor area requirement and use-specific standards for accessories. 
A tiny house on wheels is a portable facility that can take almost anywhere. Building a tiny home is a brilliant option, and our qualifications speak for themselves with all the positive reviews. While you can choose to make your tiny house from scratch, purchasing one is a better option, especially for new settlers. Our readymade tiny home on wheels comes with the following:
Beautiful modern designs

Cost-effective plans

A wide variety of options to choose from

Easy renovations and remodeling 

Instant delivery
At TinyHomeBuildersFlorida.com, our priority is to offer you the best tiny home on wheels to help you live your best life in Miramar.
Welcome To Tiny Home Builders Miramar 
We are licensed Tiny home builders and a top-rated building manufacturer. We specialize in constructing tiny homes on wheels across different cities and countries. Our customers say we are the best miniature home builders in Florida. We offer our customers years of expertise in design and construction and up-to-date building equipment. Over the years, we constructed hundreds of tiny houses in Florida for business and residential purposes.
We design our tiny homes with an emphasis on style and durability while giving room for you to customize your home to your spec and needs. While we have premium tiny house models, each of our Tiny houses is in some way suited to our client's wants and needs. We help you build functional facilities to help with your lifestyle. Also, We have lots of affordable tiny homes on wheels for sale and lease in Miramar.
At Tiny Home Builders, our homes feature premium designs, high-quality materials, and flawless craftsmanship. If you want to DIY your tiny home, we also offer affordable custom trailers and tiny house shells at different stages to get you started on your building project. 
Minimalism is classy, and we are here to help you achieve the tiny home of your dreams.
Tiny Home on Wheels, Unique in Every Way
Tiny Homes are fantastic housing facilities. With a tiny home, you can have everything in a more modest space. You have your fantasy living region, kitchen, lawn, restroom, and room all in something like 4000 square feet or even less. The typical minimalistic living space is multiple times less than a typical American house, implying you get to have lesser stuff and live light.
At Tiny Home Builders, we build your home on wheels, so you can go anywhere in your own home. Also, miniature houses allow you to avoid the expense of building and maintaining large homes. You also get to reduce the load in your home, making for more efficiency.
We are here to help you get started on your minimalistic lifestyle.
You can also read: Tiny Home Builders