Tiny home builders in Palm Bay
What brings you to Palm Bay:
Relocating for good to Palm Bay?

Are you on a visit?

On a paycation for business?
Have you considered a place you can call home? A place to return after a streassful day. You deserve to have all the comfort of your dream without breaking your pocket. Well, we have got an answer for you. A tiny home on wheels is just all you need.
Instead of returning to continue your day's stress by running from one room to the other to pick materials that you need, your tiny houses on wheels will provide you with a compact tiny home in Palm Bay. The comfort and convenience are worth the price if you rent one. Buy a custom tiny home on wheels in Palm Bay.
We can help you custom-make exquisite, comfortable, convenient, and beautiful tiny homes on wheels in Palm Bay. You can trust that we are one of the best tiny home builders in Palm Bay. We are the most respected tiny home builders in Palm Bay because we are reliable, and our skills and competencies are always employed to give our clients the best services. We always ensure that we keep to our core work values which include the following:
Reliability

Good work ethics

Solid project management

Honesty
Our work objective is to keep topping the city's chart of the best tiny home builders in Palm Bay by ensuring maximum customer satisfaction and experience for all our clients and customers.
Tiny House or Park Model Home Builders in Florida
Tiny Home Builders Florida offers over 6 models of modern farmhouse-style tiny homes on wheels. Our tiny home on Wheels typically have unique design elements like Lofts, fireplaces, and apartment-sized appliances.
ROOMETTE
The ROOMETTE is a winsome trailer that radiates tranquillity and offers a peaceful that also looks very beautiful home to its residents.
GREENFEST
This classically inspired farmhouse styled tiny home packs a big punch into a small space with large black windows and a modern interior design.
HEAVEN
A stunning rustic, yet refined tiny house on wheels with two spacious lofts, a modern kitchen, and a large bathroom suite.
SUMMER JOY
The SUMMER JOY is a Modern tiny house that tends to take your breath away with its fine design, beautiful appearance and a modish theme.

SEASHORE
An affordable tiny house with the basic necessities and a lot of windows throughout. Full kitchen and a full bath make it ideal for all lifestyles.

MAGNOLIA
The MAGNOLIA is a dreamy tiny home, with a private living room, a main floor bedroom with space to walk around the bed, and a functional kitchen with all of the extras.
Tiny home builders Palm Bay
At tiny home builders Palm Bay, we aim to provide you with your dream tiny home on wheels with all the comfort and convenience you ever wished for at affordable costs. We build one bedroom for two persons without compromising comfort and convenience. Our tiny houses are moveable and can always get to your location of choice with ease. Palm Bay is such a free and perfect place for tiny homes.
The quality of all tiny homes depends on the kind of materials used. That is why at tiny home builders Palm Bay, we use the most durable materials in crafting our tiny homes on wheels.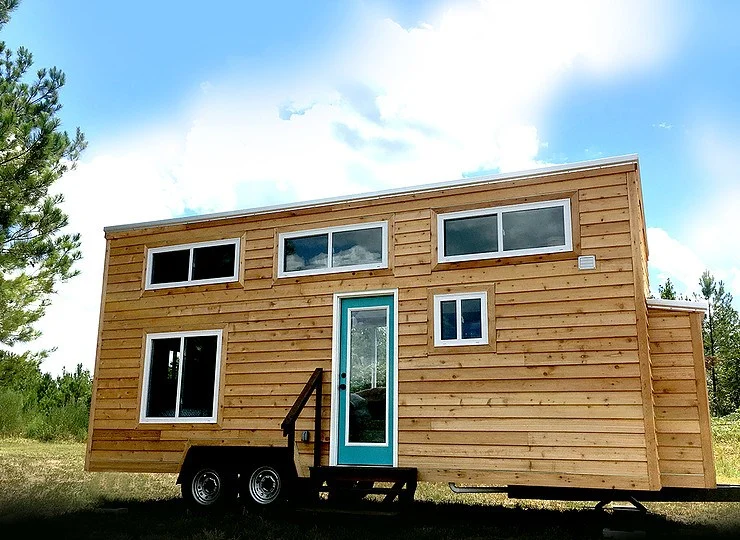 We know that you might have some heavy luggage to keep somewhere in your tiny houses on wheels, so we ensure that we use materials much more potent than conventional wood to frame our structures. You don't also need to worry. Our tiny homes on wheels are highly energy efficient, conserve and minimize your energy expenses.
We ensure that you lack nothing in your tiny homes on wheels. We craft your home so that you have sufficient natural lights flowing through just as you want, and our tiny homes are custom-made so that you can't find them as standard elsewhere.
We build your tiny homes with the following:
The best quality and durable materials

Beautiful aesthetic finishing

And that is energy efficient.
You don't have to worry about the price, as we always strive to keep our rates affordable. No matter the picture or image of a tiny home on wheels you have, we can get it customized for you and get you to live in the home of your dream.
Welcome to Tiny Home Builders, Palm Bay
Is it a thing of wonder to you that people embrace tiny homes on wheels? Well, here is the reason: it is unique in every way. Living in a tiny house on wheels means you cannot only cut down on costs and expenses associated with elaborate buildings. It also enables you to be experimental, moving around with nature. You can relocate your customized home just as you wish, closer to your desired amenities and fits your lifestyle.
Living in tiny homes on wheels means you can better bond with your partner. Both of you have the chance to be close, performing all activities together instead of separately. Tiny homes on wheels support adventures, and they are sustainability friendly.
Tiny Homes On Wheels, Unique In Every Way
Our dream at tiny homes Palm Bay is to build your dream tiny home on wheels without you breaking the bank. You can own your own home at affordable prices. 
Whether you want to live alone or with your partner, we can help you make that dream tiny home that will guarantee comfort, convenience, and adventure. We are just a contact away and will be at your service.
We offer some of the best services in constructing tiny houses on wheels, and our experienced workers are experts in their craft. Even if you have a family or want some complex structures on wheels with staircases and some custom designs, we have all it takes to realize your dream tiny homes on wheels. We always guarantee your satisfaction at tiny home builders in Palm Bay.
You can also read: Tiny Home Builders