Tiny Home builders in Pembroke Pines
Moving to another location has become common among most people. There are different reasons why people move. They include vacations, getting a new job, visiting, or spending some time away from the city. When moving, you need a perfect place to stay, either temporarily or permanently. A tiny home on wheels is the ideal solution.
These pretty small houses aren't just made for comfort reasons. There are many things you can enjoy.
After work or visiting some cozy resort in your location, these tiny houses on wheels seem like a good choice. Even for those who aren't financially buoyant to buy one, you can lease for the time spent. Buy a unique tiny house on wheels in Pembroke Pines.
We design small houses on wheels and understand how to make your stay stress-free. We are the best in the tiny house sector and are reliable in our job. Our customers know and put their trust in our work. We are creative, reliable, and trustworthy tiny home builders. We don't compromise on any of our values which include:
Accountability

Honesty

Respect

Quality

ingenuity.
We always follow laid-down principles when crafting these tiny Homes on wheels. Our customers have nothing to fear.
Tiny House or Park Model Home Builders in Florida
Tiny Home Builders Florida offers over 6 models of modern farmhouse-style tiny homes on wheels. Our tiny home on Wheels typically have unique design elements like Lofts, fireplaces, and apartment-sized appliances.
ROOMETTE
The ROOMETTE is a winsome trailer that radiates tranquillity and offers a peaceful that also looks very beautiful home to its residents.
GREENFEST
This classically inspired farmhouse styled tiny home packs a big punch into a small space with large black windows and a modern interior design.
HEAVEN
A stunning rustic, yet refined tiny house on wheels with two spacious lofts, a modern kitchen, and a large bathroom suite.
SUMMER JOY
The SUMMER JOY is a Modern tiny house that tends to take your breath away with its fine design, beautiful appearance and a modish theme.

SEASHORE
An affordable tiny house with the basic necessities and a lot of windows throughout. Full kitchen and a full bath make it ideal for all lifestyles.

MAGNOLIA
The MAGNOLIA is a dreamy tiny home, with a private living room, a main floor bedroom with space to walk around the bed, and a functional kitchen with all of the extras.
Tiny Home Builders Pembroke Pines
At Tiny Home Builders Pembroke Pines, we aim to offer affordable excellent living homes without compromising on the different tiny homes on wheels. All our homes come in one bedroom in which two people can stay comfortably. 
These are elegant rooms well decorated and which will take care of your needs. The homes are movable, and you can transport them to any location that you like easily. Pembroke Pines is a beautiful location for tiny houses, so you will enjoy the place.
Furthermore, all our homes are crafted from the best housing materials available.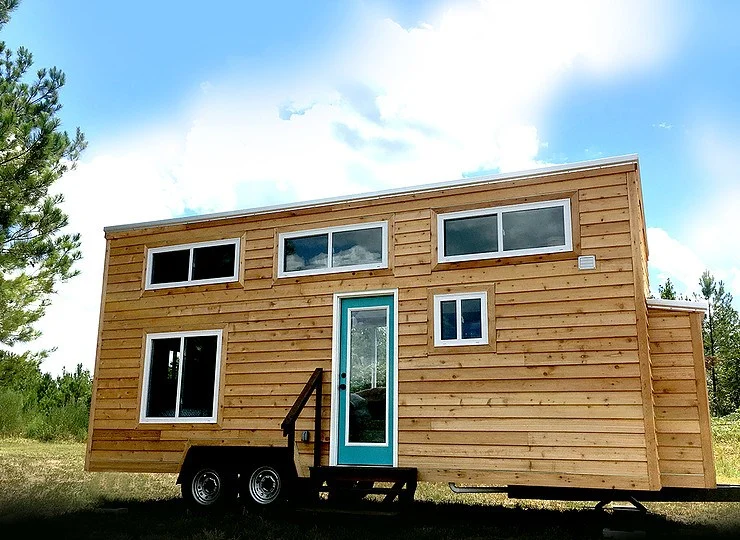 These tiny homes on wheels are more durable and elegant than traditional wood framing. All our homes are stylish, energy-efficient, and have good air control. The tiny homes on wheels at our disposal are all fully equipped with the latest facilities. 
Also, the homes are made in such a way that natural light flows easily. These are custom-made houses that are exclusive and timeless. Having a small house can give you all you need without affecting your comfort. They provide a bit of minimalism, beauty, and style. All our tiny houses on wheels come with the following:
Great home decor

Cooling system

Smart Home Technology

Sun Tunnels
These features ensure you have a home that will make you relaxed and secure. Our customers love our affordable prices and warranties because it's the cheapest they can get anywhere. If you want your tiny houses customized to any specifications, we can do that easily.
Welcome to Tiny Home Builders Pembroke Pines 
There are many reasons why you need tiny Homes on wheels. Some of these include vacations and getting a place to stay securely. Sometimes, you might just need somewhere you can be alone with your family. If this is the case, look no further. Tiny Homes Pembroke Pines provides some amazing housing options in Pembroke Pines and nearby locations. Our clients can buy some small houses at good rates. 
We are available 24/7 to help you design to help build your desired houses. Our objective is to help our customers to create an ideal home that will help them. We can help you get a small house that is within your budget. You don't need to spend much as all our quality tiny Homes are affordable. 
Also, when you get a tiny house, you have privacy from the busy city. You can buy a tiny house that can be used to work remotely and rest when needed. The amenities you get in these houses are fantastic and appealing. Aside from just offering tiny homes to people, we provide a healthy and affordable lifestyle. If you are seeking a work-life balance, then buying these tiny homes is your best choice. 
Tiny Homes Pembroke Pines remains the best choice for those seeking a place to call their home. We assure our customers that you will get a place they will be proud of. If conventional homes aren't your thing and you need something smaller but well-furnished, Contact Us for your tiny Homes on wheels.
What makes Tiny Home Builders Pembroke Pines the best? 
Tiny home builders in Pembroke Pines believe that everyone deserves a home of their choice. We have been in this business for years and have never compromised in all our dealings. We remain the best when it comes to buying or renting tiny homes on wheels. 
Moreover, we have the required experience to cater to all our clients. We aim to create a home that supports green living and is self-sufficient. You can't regret doing business with us because providing homes that suit your specifications is our goal.
You can also read: Tiny Home Builders