Tiny Home Builders in Pompano Beach
Are you in need of the best houses in Pompano Beach? Do you need a place to stay when you visit? A tiny home on wheels may be your best option. It would help if you considered buying a tiny house on wheels. It can be for vacation or business purposes. These tiny houses in Pompano Beach are gorgeous. We assure you of comfort and relaxation times, coupled with the serene environment around the beach area.
 A tiny house on wheels will help you better enjoy the Waterfront in Pompano Beach and resorts. Buy a tiny house on wheels today. 
As a professional tiny home builder, we seek to satisfy our customers and provide for their needs. We are known as respectable, reliable, and competent builders. We focus on our core values which are: 
Honesty 

Integrity

Outstanding project management 

Quality materials for construction.
Tiny House or Park Model Home Builders in Florida
Tiny Home Builders Florida offers over 6 models of modern farmhouse-style tiny homes on wheels. Our tiny home on Wheels typically have unique design elements like Lofts, fireplaces, and apartment-sized appliances.
ROOMETTE
The ROOMETTE is a winsome trailer that radiates tranquillity and offers a peaceful that also looks very beautiful home to its residents.
GREENFEST
This classically inspired farmhouse styled tiny home packs a big punch into a small space with large black windows and a modern interior design.
HEAVEN
A stunning rustic, yet refined tiny house on wheels with two spacious lofts, a modern kitchen, and a large bathroom suite.
SUMMER JOY
The SUMMER JOY is a Modern tiny house that tends to take your breath away with its fine design, beautiful appearance and a modish theme.

SEASHORE
An affordable tiny house with the basic necessities and a lot of windows throughout. Full kitchen and a full bath make it ideal for all lifestyles.

MAGNOLIA
The MAGNOLIA is a dreamy tiny home, with a private living room, a main floor bedroom with space to walk around the bed, and a functional kitchen with all of the extras.
Tiny Home Builders Pompano Beach
You may wonder, "what is so exquisite about Pompano beach?" Did you know that Pompano Beach is the heart of Florida's Gold Coast? Pompano Beach is one of the best locations to live in a tiny house.  
Pompano Beach has magnificent shorelines, expansive sea views, and unfettered access to mellow, warm water. It also has Gulf waters, which provide opportunities for scuba diving among natural coasts close to the shore. Its magnificence makes it possible for over 950 people to troop in daily.
This secluded beach makes tiny houses in the beach area one of the best investment options you should consider.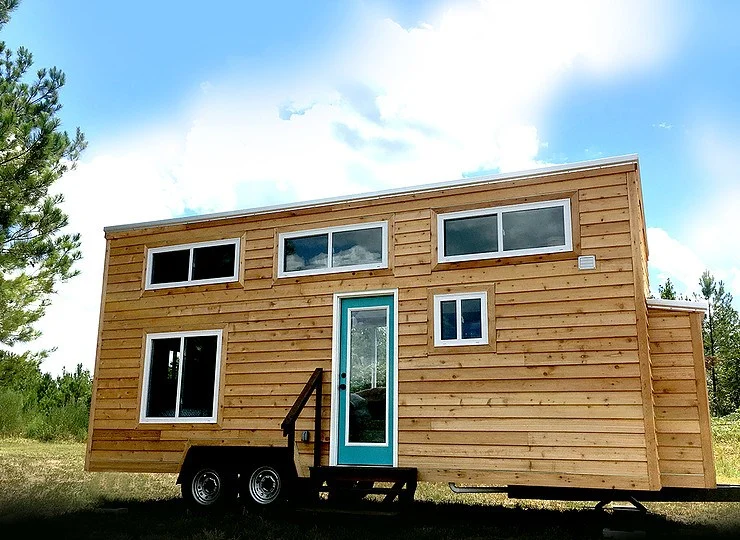 The visitors' troop in and out will need a place to stay, and you can build tiny houses in the area for rent. If you don't want to invest, you can buy one for vacation.
As professional tiny house builders, we have a collection of stylish designs you'll appreciate. They include:
Beautiful and carefully crafted wood finishes

Durable construction

Latest energy-saving products
We have the best tiny house rates and warranties. You'll love our designs, and if you already have a plan in mind, we'll custom-build one for you. Your tiny house should be just how you want and like it, and we will ensure to bring your dream home to reality.
Welcome To Tiny Home Builders Of Pompano
Have you been thinking about owning a tiny house on wheels? Let us build one for you. You deserve the best home after enduring the stress of work, family, and everyday life.
At Tiny House Builders Pompano Beach, we specialize in designing and building tiny homes for people who desire to enjoy living in a small home. We ensure your home has enough space and you do not feel cramped. We have a wide range of designs to meet your specific lifestyle requirements.
In Pompano Beach and surrounding areas, we offer our customers a wide range of tiny home designs at very affordable prices. We will assist you in customizing your dream home in such a way that it meets your lifestyle statement. Acquiring a tiny house can be one of the best life decisions you'll ever make. Let Tiny House Builders Texas make that decision worthwhile. A tiny home on wheels will enable you to save time and extra funds, allowing you to live a simple life full of adventure and pleasure!
At Tiny Home Builders, we do more than build houses. We provide lifestyle possibilities and real solutions tailored to your specific lifestyle requirements. We have a wide range of home models to suit every standard of living. We can also assist you if you don't have much to put your tiny house on.
Tiny houses are one of the best housing solutions. You don't have to pay a mortgage or rent. Our Pompano Tiny Houses are simple, exquisite one-bedroom, two-person apartments equipped with all the essentials you need to live a comfortable lifestyle.
If you want to live tiny in a big city:
But don't see yourself living in conventional houses

Save money on housing

Want to avoid big unused spaces altogether
It would help if you considered buying a tiny house on wheels.
Tiny Home On Wheels, Unique In Every Way?
Do you know why tiny houses have become popular in the United States? Do you know why you should get one? It's simple! Tiny houses make sense as they offer lifestyle solutions. The idea of a simpler life is appealing to a lot of people. Tiny homes on wheels provide a minimalist lifestyle. They are simpler to care for and take up less space than traditional homes.
Tiny homes on wheels allow you to quickly transport your home wherever and whenever you want. It would be best if you had less time to clean up and more accessible access to your belongings. You get to lower your energy bills and reduce your carbon footprint. It is a fantastic way to save money while living your best life!
Moreover, you can decide to put off selling your home for years!
You can also read: Tiny Home Builders