Tiny Home Builders In Port St. Lucie
Are you searching for a tiny house? Are you looking for a way to avoid mortgage debt? Are you tired of paying rent? A tiny home on wheels may be your best bet. It is best to settle and relax in one of these gorgeous tiny houses after spending a long day at work or on a long road trip. If you have ever thought about owning your own tiny house, renting one is another good option. Buy a unique tiny home on wheels in Port St. Lucie.
We are diligent and hardworking builders. We do our best to ensure that our customers get what they want. We are known as reliable and trustworthy builders in our industry, and part of the values we practice include the following:
Good customer-business relationship

High-quality product outcomes

Honesty and integrity
All are ingrained in our work principles.
Tiny House or Park Model Home Builders in Florida
Tiny Home Builders Florida offers over 6 models of modern farmhouse-style tiny homes on wheels. Our tiny home on Wheels typically have unique design elements like Lofts, fireplaces, and apartment-sized appliances.
ROOMETTE
The ROOMETTE is a winsome trailer that radiates tranquillity and offers a peaceful that also looks very beautiful home to its residents.
GREENFEST
This classically inspired farmhouse styled tiny home packs a big punch into a small space with large black windows and a modern interior design.
HEAVEN
A stunning rustic, yet refined tiny house on wheels with two spacious lofts, a modern kitchen, and a large bathroom suite.
SUMMER JOY
The SUMMER JOY is a Modern tiny house that tends to take your breath away with its fine design, beautiful appearance and a modish theme.

SEASHORE
An affordable tiny house with the basic necessities and a lot of windows throughout. Full kitchen and a full bath make it ideal for all lifestyles.

MAGNOLIA
The MAGNOLIA is a dreamy tiny home, with a private living room, a main floor bedroom with space to walk around the bed, and a functional kitchen with all of the extras.
Tiny Home Builders Port St. Lucie 
Did you know Port St. Lucie is one of the best markets for tiny homes on wheels? Now, you do. Did you also know that Tiny Home Builders Port St. Lucie has been building the best tiny homes on wheels for the last ten years? It is good news because you can finally buy yourself a tiny house in Port St. Lucie.
Port St. Lucie is one of the best places to live around if you love tiny houses. Newcomers are finding it to be the hub for a beautiful and serene environment for business owners and homeowners. It offers opportunities for all kinds of people living all sorts of lifestyles. As a result, the tiny home movement has become a growing one.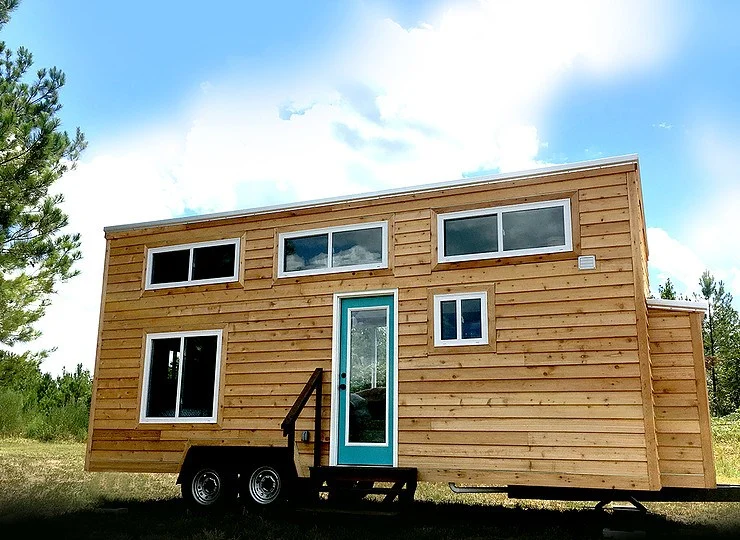 More people now know that a tiny home can provide everything they need without taking away beauty or style. Models in our Port St. Lucie tiny home collections contain many designs that our customers love. These houses come with the following:
Good framing

Elegant wood finishes

Latest energy-efficient products
You can love living in your tiny home on wheels for a long time. 
We love to offer low prices and warranties that customers can trust. We allow you to customize your Tiny House so that it is the way you like it, even down to the last bolt! Let TinyHomeBuildersFlorida.com make your home a beautiful paradise.
Welcome To Tiny Homes Builders, Port St. Lucie 
Do you have a family or job? Do you sometimes need to rest, take a break, or go on vacation? Are you looking to own your own home? Tiny Homes Port St. Lucie has some of the best money value in Port St. Lucie and other selected locations. We will help you design your tiny dream house or build a custom-made one for you in a way that suits you. Owning a tiny home can be one of the best decisions. By designing your house, let's make that decision even more worthwhile and better. 
We are Tiny Home Builders Port St. Lucie. We have the experience and professionalism you need to get your tiny house done the way you want. Our designs are unique and one-of-a-kind. If you need a tiny house builder in Port St. Lucie, you can be sure to trust us. 
We also build tiny custom houses. Just reach out to us with your ideas, and we will bring them to life. 
Tiny Home Builders Port St. Lucie offers more than mere houses. Their house design features provide the best options and lifestyle opportunities. We offer real solutions to match everyone's needs individually. We understand that people need and want different things in their homes, so we make your choice our priority. If you lack a lot to put your tiny house on, we can help you.
Tiny Homes are the wave of the future. Our tiny house can help you achieve your life goals. You don't have to worry about space. We design everything in our tiny houses to suit your unique lifestyle.
If you like living small in a big city but are unable to afford it or don't have the time to deal with mortgage, rent, and other baggage that accompany conventional homes, you need to consider buying a tiny house.
Tiny Homes On Wheels, Unique In Every Way
Do you know why the tiny house movement is a popular one? Because it allows people to achieve their goals. It offers financial freedom and economic liberation. It makes sense. It will enable you to connect with the natural environment around you. Your new small footprint will result in less waste because you live small. It's a big way to sustain the environment.
Live rent-free and off the grid in your own tiny home. Live in a house that has every single feature you want and needs. 
The low prices we offer will help you save even more. You'll be able to do more things, achieve more goals, and not worry about rent or mortgage. Buy a tiny house today.
You can also read: Tiny Home Builders