Tiny Home Builders in Riverview 
Are you visiting Riverview and in need of a place to stay? Are you moving to Riverview for business or pleasure, and do you need a home to live in? The best option for you is a tiny home on wheels. Why not consider buying one of these tiny homes to settle in after each day of an outing? And if it looks like buying a tiny home outright, the next best option is renting one. Make your stay memorable by buying a custom tiny home on wheels in Riverview.
We are the best in the industry when it comes to crafting beautiful and functional tiny homes on wheels. Our clients trust our services. They also know we always deliver. We work hard to ensure we satisfy their expectations in reliability and give the correct tiny home on wheels. Our core values include the following: 
Excellent work ethics 

Honesty and trust

Diligence and reliability

Solid project management and delivery
All these values we put into our services to bring the best home experiences to our favored customers.
Tiny House or Park Model Home Builders in Florida
Tiny Home Builders Florida offers over 6 models of modern farmhouse-style tiny homes on wheels. Our tiny home on Wheels typically have unique design elements like Lofts, fireplaces, and apartment-sized appliances.
ROOMETTE
The ROOMETTE is a winsome trailer that radiates tranquillity and offers a peaceful that also looks very beautiful home to its residents.
GREENFEST
This classically inspired farmhouse styled tiny home packs a big punch into a small space with large black windows and a modern interior design.
HEAVEN
A stunning rustic, yet refined tiny house on wheels with two spacious lofts, a modern kitchen, and a large bathroom suite.
SUMMER JOY
The SUMMER JOY is a Modern tiny house that tends to take your breath away with its fine design, beautiful appearance and a modish theme.

SEASHORE
An affordable tiny house with the basic necessities and a lot of windows throughout. Full kitchen and a full bath make it ideal for all lifestyles.

MAGNOLIA
The MAGNOLIA is a dreamy tiny home, with a private living room, a main floor bedroom with space to walk around the bed, and a functional kitchen with all of the extras.
Tiny Home Builders Riverview 
At Tiny Home Builders Riverview, we balance the need to provide affordable homes and ensure the homes feature high-end quality. The homes we build come in one-bedroom for two persons. We emphasize comfort and elegance in our designs. These homes are moveable to any location of your choice without stress. Riverview is one of the best places suitable for tiny homes, so you do not need to panic. 
We use durable materials ande always come up with the best structures in the market. We use materials that are stronger and far better than conventional wooden frames. We make sure to build in a way that ensures reduction of your energy bills while maintaining conservation in heating and cooling.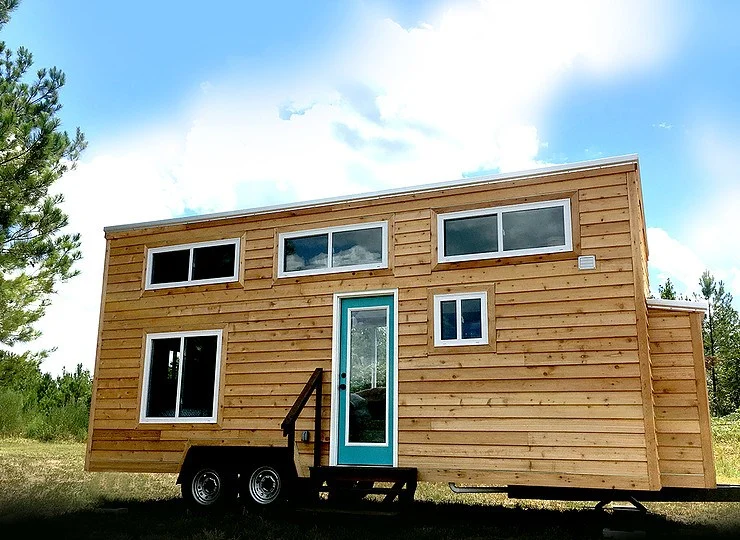 To maintain low energy bills, we incorporate a design that features open spaces that allow plenty of natural light to come in. We build in all the essential things that a home needs. Our collection features timeless designs that any customer would love. Our designs are custom and uncommon. 
We believe deeply that a home can be small and compact but not sacrifice your comfort. And this comes off in our designs—a minimalist design and convenience rolled into one. We build tiny homes that feature the following: 
Exquisite and Durable Construction

Beautiful Finishing

Energy Efficiency
All of these allow you to comfortably enjoy your tiny home on wheels. 
Customers love our affordable prices and after-sales services. Let's make a beautiful and comfortable home for you at TinyHomeBuildersFlorida.com
Welcome To Tiny Home Builders Riverview
Do you desire to live alone? Do you wish to eliminate the encumbrance of city living and enjoy the flexibility of easy movement? Tiny Home Builders Riverview is the best tiny home builder in the area. We build all our homes to the specifications of Riverview county laws.
We have more than a decade of experience in construction and engineering. We employ our expertise to bring you the highest quality and structurally sound homes. Every time we build, we seek out the best materials and products in the market to achieve the craftsmanship we have been known for in the whole of Riverview. 
At Tiny Home Builders Riverview, we don't only build simple and functional homes. We also infuse your desired style and provide people-specific solutions. In our preparation for your home, we consider your lifestyle when coming up with your design. 
We are your best bet if you want to avoid big cities altogether or desire simplicity while still living in the town. You should consider buying a tiny house.
Tiny Homes On Wheels, Unique In Every Way
Why are tiny homes on wheels the new rave? The reason, among others, is that living simply is always the best option in today's fast-moving world. Also, consider that a tiny home offers economic and financial freedom. The home's design ensures that you avoid clutter and experience less wastage. You enjoy an all-around sustainable living. 
If you doubt owning a tiny house in Riverview, you only need to consider all the benefits. For one thing, a tiny house allows you to live simply, cutting down on how much you spend on maintenance. You also enjoy a cleaner immediate environment; your apartment has only the essentials you need, no room for unwanted stuff. You can spend more time on other things that bring you happiness due to simpler living accommodations. 
A tiny house on wheels allows you to explore nature and your inner feelings. Being in a surroundings where everything is simple takes the emphasis off material things and places it on inner values. As a result of this introspection, you focus more on stuff that brings personal growth rather than material things that go out of trend in time. You can better prioritize your happiness and that of those with you.
You can also move around in your own home. Of course, your home is on wheels which makes this lifestyle easy. 
You can also read: Tiny Home Builders