Tiny Home Builders In Tallahassee
Do you need a home to stay in when you visit Tallahassee for business or pleasure? A tiny home on wheels may be your best option. You can buy one of these unique, gorgeous little houses. If you do, you'll have a place to stay after a long day's trip or a tiring day at your business or workplace. If you want a way to buy a tiny house or cannot buy one, renting one is your second-best option! Buy a delightful tiny house on wheels in Tallahassee.
We work hard at building our tiny houses on wheels. Our clients know us as respectable builders, so they always trust us to deliver the best results. We have strong moral values that include the following:
Good work ethics

Honest practices

Solid project management

High-quality product outcomes
All are ingrained in our principles.
Tiny House or Park Model Home Builders in Florida
Tiny Home Builders Florida offers over 6 models of modern farmhouse-style tiny homes on wheels. Our tiny home on Wheels typically have unique design elements like Lofts, fireplaces, and apartment-sized appliances.
ROOMETTE
The ROOMETTE is a winsome trailer that radiates tranquillity and offers a peaceful that also looks very beautiful home to its residents.
GREENFEST
This classically inspired farmhouse styled tiny home packs a big punch into a small space with large black windows and a modern interior design.
HEAVEN
A stunning rustic, yet refined tiny house on wheels with two spacious lofts, a modern kitchen, and a large bathroom suite.
SUMMER JOY
The SUMMER JOY is a Modern tiny house that tends to take your breath away with its fine design, beautiful appearance and a modish theme.

SEASHORE
An affordable tiny house with the basic necessities and a lot of windows throughout. Full kitchen and a full bath make it ideal for all lifestyles.

MAGNOLIA
The MAGNOLIA is a dreamy tiny home, with a private living room, a main floor bedroom with space to walk around the bed, and a functional kitchen with all of the extras.
Tiny Home Builders Tallahassee
Did you know that Tallahassee has been one of the best markets for tiny homes on wheels for years? That's a fact! Do you also know that Tiny Home Builders Tallahassee is building the best quality tiny homes and has been building them for a decade? This information is best for you if you have been looking forward to buying a tiny house in Tallahassee.
Tallahassee is one of the most welcoming environments for tiny home dwellers. It is perfect for business owners and homeowners. One good perk of the area is its many land lots; you don't need to worry about city zoning or inspections. It has helped the growth and popularity of tiny homes in the area.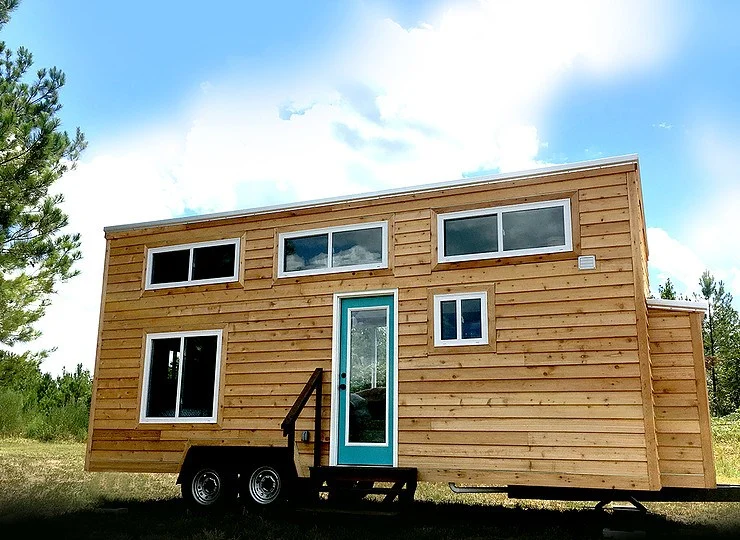 More people are starting to embrace living in tiny homes on wheels. They now understand that living in a small house does not mean a lack of space or comfort. We ensure that our customers have good experiences while living in our tiny house because we incorporate the following:
Sturdy construction

The best framing

Plenty of space
It is comfortable for them to live all day long.
We love the affordable prices that we offer and the warranties that we give. We allow you to customize your Tiny House so that it is how you like it to be, even down to the last knob. Let's make your home the right place to be at TinyHomeBuildersFlorida.com
Welcome To Tiny Homes Builders, Tallahassee
A home is one of the best places for youtube. It gives you comfort and helps you get rid of stress and worries. Do you want to own your own home? Tiny Homes Tallahassee offers some of the best homes at very affordable prices in Tallahassee and other surrounding locations. We offer our customers several beautiful designs at meager prices. It would be best if you let us help you design your dream home. You can also request a custom-built home that fits your lifestyle needs. Owning a house can be one of your best life decisions. It will help you achieve other goals and even have fun while building your dream home.
Tiny Home Builders Tallahassee offers homes and genuine lifestyles. Qualified contractors provide real-time solutions for your personal needs. You can be sure they offer several home designs for every lifestyle. If you don't have a lot to put your house on, we can help you.
Tiny Homes are the housing solutions of the future. Our Tallahassee Tiny Houses consist of one-bedroom, two-person, simple, gorgeous homes with all the modern amenities you need to live comfortably.
If you like living small in a big city but find it difficult, or you're unable to deal with all the downsides of a conventional home, then you need to consider buying a tiny house on wheels.
Tiny Homes On Wheels, Unique In Every Way
Why is the tiny house on wheels movement a growing one? Because it offers several benefits. People experience more freedom and can pursue other things. They can save more because they spend less. There is less waste because they buy less. They can also live more comfortable lives.
As a tiny homeowner, you can experience an improvement in your quality of life and overall happiness when you shed the "stuff" and start living small. There are many reasons for this: you don't feel weighed down by all the frivolous items you used to own or a huge mortgage, and you spend less time and money cleaning and maintaining your home, which allows more time and money for leisure activities.
Join the tiny house movement. Live rent-free in a mobile home on wheels. Live in a tiny house with all the features you need to live a good life. 
We offer low prices, so you'll have even more money to save. You can focus on other things with your family. Even better, you can decide not to sell your home for many years.
You can also read: Tiny Home Builders