Tiny Home Builders in West Palm Beach
Are you thinking of moving to West Palm Beach? Would you like to spend the holiday in West Palm Beach and need a place to stay? The Orchid City is one of the best places to live in Florida, thanks to its incredible weather, excellent restaurants, vast job market, and more. To make the most of your stay in West Palm Beach, you have to have the right home; your best bet might be a tiny home on wheels.
Tiny homes are all about helping you live a more efficient lifestyle while avoiding a huge mortgage. We could all use some budget downsizing. If you are considering owning a tiny house in West Palm Beach, renting one is your best option! Buy a tiny home on wheels in the Orchid City and live your most fulfilling life.
We have a reputation in the tiny home market because we are the best at what we do. We receive mind-blowing testimonials from our customers all the time. If you are looking for a tiny home builder with integrity then you are on the right page. We offer:
Integrity

Expertise

Market experience

Best quality building equipment

Best tiny home designs

Perfect customer relationship

Prompt delivery
Tiny House or Park Model Home Builders in Florida
Tiny Home Builders Florida offers over 6 models of modern farmhouse-style tiny homes on wheels. Our tiny home on Wheels typically have unique design elements like Lofts, fireplaces, and apartment-sized appliances.
ROOMETTE
The ROOMETTE is a winsome trailer that radiates tranquillity and offers a peaceful that also looks very beautiful home to its residents.
GREENFEST
This classically inspired farmhouse styled tiny home packs a big punch into a small space with large black windows and a modern interior design.
HEAVEN
A stunning rustic, yet refined tiny house on wheels with two spacious lofts, a modern kitchen, and a large bathroom suite.
SUMMER JOY
The SUMMER JOY is a Modern tiny house that tends to take your breath away with its fine design, beautiful appearance and a modish theme.

SEASHORE
An affordable tiny house with the basic necessities and a lot of windows throughout. Full kitchen and a full bath make it ideal for all lifestyles.

MAGNOLIA
The MAGNOLIA is a dreamy tiny home, with a private living room, a main floor bedroom with space to walk around the bed, and a functional kitchen with all of the extras.
Tiny Home Builders West Palm Beach
Located across the Lake Worth Lagoon, along Florida's Atlantic Ocean coast, the Orchid City is a fantastic place to live. West Palm Beach offers residents and visitors comfort and bliss with its serene neighborhoods, accessible smooth-sand beaches, fine weathers, and enticing waterways. 
You might have heard that tiny homes are not legally allowed in some parts of Florida. It is due to several restrictions and zoning regulations. Fortunately, there are lesser restrictions in West Palm Beach! The popularity of tiny homes is growing in the West Palm Beach community. Tiny homes are now standard features in several neighborhoods in Florida. Tiny homes are the new calm and West Palm Beach is one of the best places to live in one.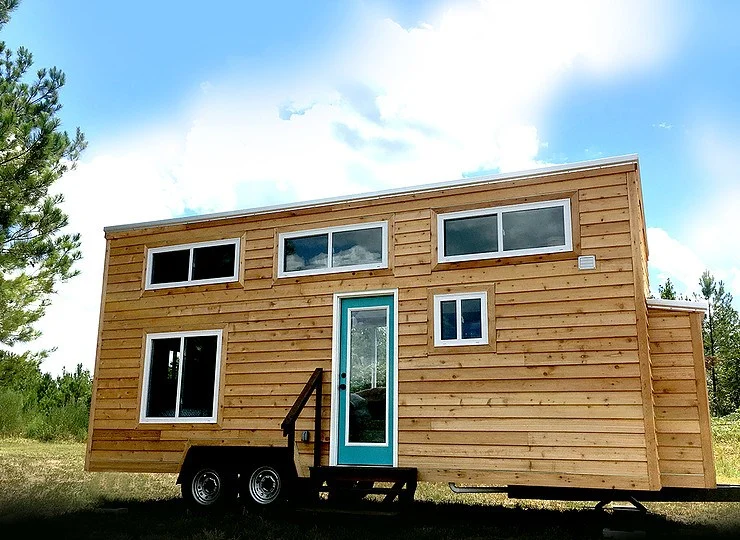 Building a tiny home on wheels is an appealing idea for several reasons. Whether you once lived in a tiny home and would like to have one for yourself, a holiday home in the mountains, or a personal goal toward minimalism, a tiny home is simply amazing. While some people love to DIY their tiny home, purchasing one is often much better and easier. Buying a tiny home is often:
Cost and time effective

Allows you to assess various designs

Affords you more options

Easy remodelling and renovation

Allows you to easily and quickly settle-in if you are just relocating to West Palm Beach
Tiny homes on wheels are a great idea but to make the most of your stay in the Orchid City, you must patronize the best builders.
At TinyHomeBuildersFlorida.com, we are committed to helping you live your best life in a tiny home in West Palm Beach.
Welcome To Tiny Homes Builders, West Palm Beach
Tiny Homes Builders West Palm Beach is Florida's number one tiny home builder. We are a full-service construction agency specializing in economical, yet high-quality, tiny homes on wheels to serve homeowners, businesses or investors.
Our houses are designed with a focus on style and functionality while allowing you to personalize your home. We provide companies with mobility and more efficient marketing solutions. We serve different markets and occasions including marketing firms, business applications, boutique resorts, restaurants, and special events.
We have a fantastic track record of excellence established over decades of serving different countries and communities. Tiny Home Builders is renowned as the international market leader in custom tiny homes, and we are the best when it comes to tiny homes on wheels. Our expertise in architecture, design, interior finishes, and construction has improved the life of tiny home dwellers in West Palm Beach.
Tiny Homes On Wheels Unique In Every Way
Tiny home living is a whole movement! Many online and physical communities now offer support for people seeking simple and more affordable lifestyles. It is all about downsizing your living space, saving costs and achieving mobility. With tiny homes on wheels, less is indeed more!
With a tiny house, you can have it all in a smaller space. You have your dream living area, kitchen, backyard, bathroom, and bedroom in no more than 4000 square feet or even less. The average tiny home is six times smaller than a typical American house, meaning you have less baggage and live light.
At Tiny Home Builders, we build your house on wheels, which means you can travel in your own home, really cool! If your work or lifestyle requires a lot of mobility, a tiny house on wheels is your best option. 
What's more, we offer cost-efficient options. By patronizing us, you get to save some more!
You can also read: Tiny Home Builders